Since a wave of social unrest swept towns and cities across Iran between last December and January, the country has witnessed regular anti-regime demonstrations. None of them, however, have been as violent as the latest one in Kazeroon, some 900 kilometers (559 miles) south of the capital Tehran.
One person was killed and six others were injured, the semi-official Fars news agency reported Thursday. But quoting local sources, the Center for Human Rights in Iran, a US-based NGO, said at least at least three people have been killed and dozens wounded in the protests. Authorities have also allegedly arrested several protesters.
Fars said a group of people gathered in the city on Wednesday evening to chant "subversive slogans" and set fire to a local police station.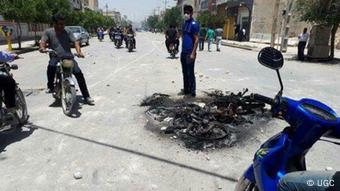 Residents of Kazeroon have held sporadic demonstrations for weeks against a government decision to establish an administrative division in the region
Residents of Kazeroon have held sporadic demonstrations for weeks against a government decision to establish an administrative division in the region, by dividing some districts of the city and merge them into a new town.
Authorities had promised the separation would not take place following previous protests.
Wednesday's scuffle was the first reported unrest in the town in two weeks after a decision to shelve the reform initiative, Fars said.
A raft of reasons
The latest bout of protests in this Iranian city erupted at a time when the entire country and state-controlled media were fixated on the deaths of tens of Palestinians in Gaza over the past several days. While Iranian news outlets extensively covered the developments happening in the other corner of the Middle East, they have remained silent about the protests and the related deaths within their own country.
Iran has seen a series of anti-government protests in recent months, organized by various sections of society — from farmers and teachers to unemployed youth and women, among others. The protesters have taken to the streets despite threats of a severe crackdown by the authorities.
The causes of the public discontent have been wide-ranging: high unemployment, rapid inflation, a currency crisis, increased poverty and inequality, as well as extensive official corruption. Added to these is a lack of civil liberties, which reformers and even hard-liners within the regime see as reason enough to implement much-needed reforms.
Compounding Iran's domestic challenges is the international environment, particularly with US President Donald Trump's decision to pull out from the Iran nuclear deal. This opened up the possibility of imposing renewed economic sanctions on the Islamic Republic.
Trump's move has given ammunition to Iranian opposition groups that want to overthrow the regime. The latest protests in Kazeroon should be seen and understood in this context.
Read more:
Iran deal: The European Union's ugly options
Why the Iran nuclear deal's collapse is a disaster for North Korea
Galvanizing through social media
Videos of the incident have been shared widely on social media. Some Iranians have also taken to Twitter to express their views.
A user named Ms. Eli wrote: "No Gaza! no Lebanon! I will sacrifice my life for Iran. Today we have to take to the streets to support the people of Kazeroon."
Some commentators responded with sarcasm, as Darya Jam wrote on her Twitter account: "The only way out of this scandal is for President Rouhani to commit suicide!"
Another user, Yasmin, tweeted: "[Iran Foreign Minister ] Zarif will say in his next interview that we don't have Kazeroon in Iran."
Pro-government media report that the protest was organized on Telegram, a popular social networking platform that was recently banned in Iran. The ban enraged the platform's 40 million Iranian users.
Many Iranian citizens have also lost faith in their country's President Hassan Rouhani, who came to power with a message of change and hope. With such simmering anger and disenchantment among the masses, it's highly likely that any local issue could spark violent protests, which quickly escalate into a nationwide anti-government movement.