"Oil is the life blood of North Korea's effort to build and fund a nuclear weapon," said US ambassador to the United Nations (UN) Nikki Haley after the UN Security Council voted to apply new sanctions against the communist country Monday in New York. Washington would like to cut off oil exports to Pyongyang altogether but has been repeatedly thwarted by Russian and Chinese opposition. Moscow, which is fundamentally opposed to tough sanctions against North Korea, feels it deserves credit for single-handedly watering down legislation so far.
Thus, there will be no oil embargo. Instead, the latest UN Resolution places limits on the delivery of petroleum products such as gasoline and diesel fuel effective from October 1. From 2018 onwards North Korea will only be allowed to import about two million barrels of foreign oil each year. Depending on which estimates one uses, that would mean a 10-to-50 percent reduction in foreign oil imports. Until now, China was thought to be North Korea's largest oil supplier but Russian imports have been growing steadily of late.
Read more: Germany, China back 'peaceful' dialogue with North Korea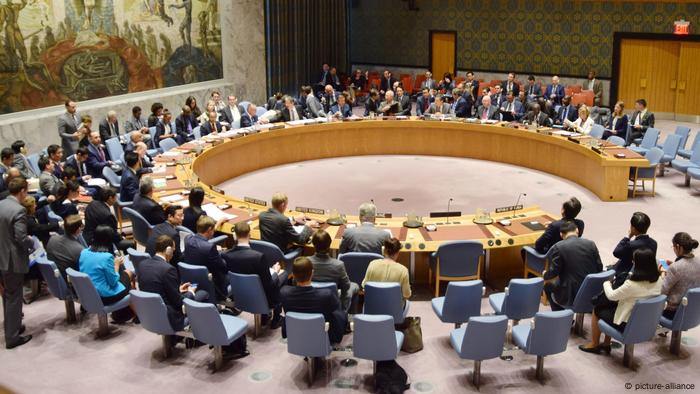 The UN Security Council passed the new round of sanctions at the beginning of September
Trading in the gray zone
When Japan and South Korea asked Russia to stop delivering oil to North Korea before the vote at the Security Council, President Vladimir Putin played it down. He said that Russia was only exporting about "40,000 tons of oil and petroleum products per quarter." A paltry sum compared to the hundreds of millions of tons that Russia exports to the world market. Moreover, Putin said that large Russian commodity companies were not involved in trade with North Korea.
Nevertheless, even at those small amounts the country has almost doubled its gasoline and diesel fuel exports to North Korea in the first half of 2017 according to Russian media reports based upon records from Russia's tax authority.
But in reality the actual amount of oil being exported is likely much higher than those official records state. A former North Korean official who defected to South Korea and now lives in the United States gave an interview in June in which he claimed that Russia was actually delivering some 200,000 to 300,000 tons of oil to Pyongyang each year. Artyom Lukin of the Far Eastern Federal University in Vladivostok, Russia, agrees with that estimate. "At current prices that amount of oil would add up to about $300 million (252 million euros) a year," said the foreign policy expert while speaking with DW. If that number were true then it would be more than three times higher than official trade volume figures suggest. The reason: trading takes place in gray zones away from official markets, and the resource is often routed through China.
Read more: Vladimir Putin warns against 'global catastrophe' over North Korea nuclear crisis
Detour via China
The majority of Russia's oil deliveries to North Korea are transacted through middlemen and therefore do not appear on official customs documents, says Lukin. "For instance, a gasoline delivery will be declared to be destined for China or Singapore, but then it shows up in North Korea." The reason for that is that sanctions against trading with North Korea make bank transfers "practically impossible." Therefore Russian suppliers need to use well-connected "Chinese middlemen."
The Washington Post has also reported on Russia's circuitous sales of oil to North Korea. Among other things, the newspaper based its findings on increased tanker traffic between the Russian port of Vladivostok and North Korea in the spring of 2017.
If true, such actions would be a violation of US sanctions against Pyongyang. In June, Washington imposed sanctions on the International Petroleum Company (IPC), a privately owned Russian firm run by Eduard Khudainatov who was formerly the CEO of Rosneft, Russia's largest oil and gas company. The US sanctions also hit IPC subsidiary NNK-Primornefteprodukt, which distributes petroleum products produced at its Khabarovsk refinery and also owns oil reservoirs in Vladivostok harbor. Khudainatov told Russia's TASS news agency that the sanctions were politically motivated. Moscow rejects US imposed limits and points to the fact that to date there have been no UN sanctions against oil deliveries to North Korea. Artyom Lukin says that Russia has not broken any international laws.
Read more: Brazil fascinated by mysterious North Korea
Closer trade relations since 2014
Moscow has been steadily strengthening its relationship with Pyongyang over the last three years as part of its so-called "eastward pivot," which has in turn been sped by Russia's conflict with the West over its annexation of Crimea.
In 2014 Russia extended debt relief to North Korea, taking a loss of around $10 billion on loans stemming from the days of the former Soviet Union. That same year both countries agreed upon the ruble as the currency for all future transactions. In 2015 the Russian Chamber of Commerce established an economic council for relations with North Korea. Russia's then minister for Far East development announced that Moscow intended to increase its trade volume with North Korea tenfold – to roughly $1 billion – by the year 2020. But so far nothing has come of that. Trade dropped from about $113 million in 2013 to roughly $77 million last year, although in 2017 – thanks mainly to oil exports – customs officials have registered an increase.
Read more: What is China's role in the North Korean crisis
Legal trade still possible
The latest UN sanctions will likely "reduce" Russian oil exports to North Korea, feels Artyom Lukin. But he says there is still room for Russia to conduct legal trade with North Korea. Still, the expert from Vladivostok predicts that one thing might become a real problem for Russian oil suppliers: the dwindling state of Pyongyang's coffers.
Lukin says the UN sanctions hit North Korea hard because they severely limit its ability to export goods and resources. "Where is North Korea supposed to get the money to pay for gasoline from Russia or anywhere else?"