German Chancellor Angela Merkel and Chinese President Xi Jinping on Wednesday backed tougher sanctions on North Korea after the communist nation conducted its most powerful nuclear test, said German government spokesman Steffen Seibert.
The nuclear test "represents a significant danger to the security of the entire region and a serious violation of international law," said Seibert.
Read more: What is China's role in the North Korean crisis?
"Both interlocutors called for a tightening of the sanctions against North Korea … At the same time, dialogue must be pursued to achieve a peaceful solution to the escalation."
Earlier this week, Germany summoned North Korea's emissary for talks in Berlin, saying Sunday's nuclear test "reached a new dimension" in provocation.
'Peaceful means'
Xi told Merkel that Beijing remained committed to denuclearization in the region, but that progress on North Korea could only be achieved through peaceful dialogue.
Read more: North Korea: From war to nuclear weapons
"Facts have repeatedly proven that the Korean Peninsula issue can only be resolved through peaceful means, including dialogue and consultation. This requires the international community to work together," Xi said.
Weapons mean 'peace'
North Korea's latest test has put the international community on edge. On Thursday, European foreign and defense officials discussed imposing the EU's own sanctions against Pyongyang, saying its nuclear weapons program represents a "threat to global peace and security."
Meanwhile, North Korean leader Kim Jong Un said on Thursday that his country's nuclear weapons ensure security within the region in comments carried by Russian news agency TASS.
Read more: The North Korea crisis: 10 questions, 10 answers
"We have got a powerful nuclear deterrent that provides us with an opportunity to counter hostile attacks in any part of the world, and ensure peace and stability on the Korean Peninsula," said Kim. "The United States should by all means keep in mind the nuclear status of our country."
Since US President Donald Trump assumed office in January, tensions have risen between Pyongyang and Washington. Several White House officials have warned North Korea of underestimating US will to protect its interests in the region.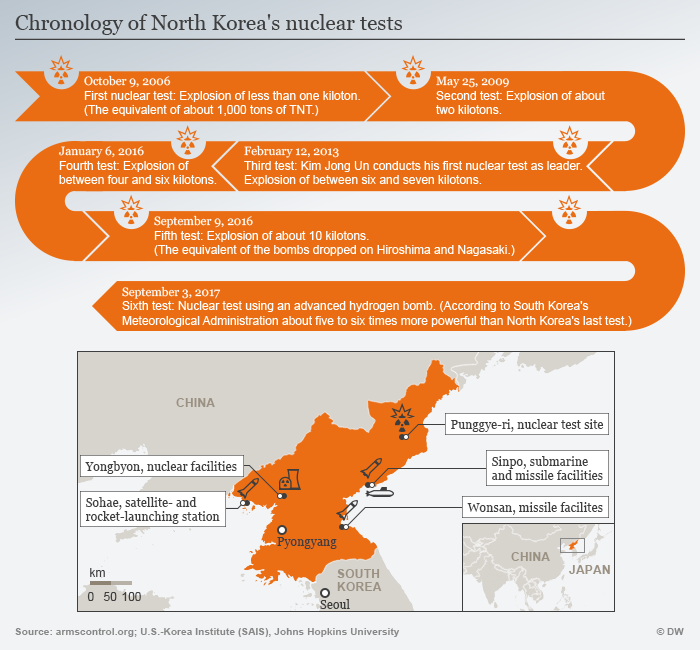 ls/rc (AFP, AP, dpa)