The headlines that usually catch Brazilians' attention are various corruption scandals, acts of urban violence and football results. But at the moment there is one topic of unexpectedly high interest: North Korea.
Since the most communist regime in the world has been causing uproar with its continued nuclear weapons testing, the Brazilians are amongst the people who do the most Google searches for information about North Korea.
This huge level of interest has brought an unexpected turn to Thiago Mattos Moreira's life. An expert in international relations, he is currently completing his final year in this field at the Hanyang University in the South Korean capital, Seoul. Now Mattos, who is a researcher at the University of Rio de Janeiro, is in demand as a public speaker.
"People want to know what life in North Korea is really like, whether the country really will be able to start World War III, or if they are just interested in Korean culture."
Brazilian stability in danger
Of course, Brazilians also want to know how such a small country is able to challenge the US, which is the world's biggest military power. And how they can engage in a "classic conflict" scenario, as described by Paulo Watanabe, Professor for International Security at the Sao Paulo State University. This is where one country directly threatens another, a form of conflict that has not been seen since the end of the Cold War, he believes.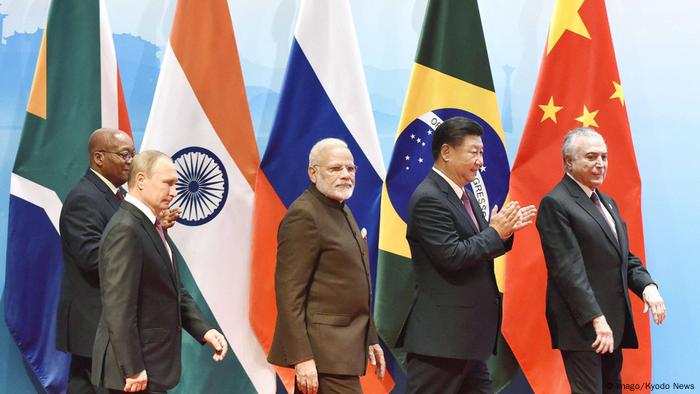 Brazil's Michel Temer (far right) at a BRICS meeting, where North Korea was a hot topic
"In recent years, North Korea is the country that has most clearly challenged American power, " says Watanabe. "By conducting these tests, they want to show that they are on the same level as the US."
Read more: North Korea: Germany, China back peaceful dialogue
A war would mean the end of one of the countries, probably North Korea. And it would have a direct effect on the whole world, stresses Watanabe. "Above all, it would have an impact on the Chinese economy," Watanabe explains, which he says is the "center of world trade and certainly the most important partner for Brazilian foreign trade." It means the stability of the Brazilian economy is also at stake.
Binary logic
But is this the reason for the Brazilians' excessive interest in this issue? Claudia Marconi, political scientist at the Pontifical Catholic University of Sao Paulo, believes there is another explanation. She thinks that many of her compatriots would recognize a kind of binary logic in such a conflict: Democracy pitted against a dictatorship, rationality versus irrationality, globalization versus isolation, capitalism versus communism.
"At the moment, this kind of polarization is strongly reflected in Brazilian society," says Marconi. As an example, she recalls the huge protests in 2015 against the leftist ex-president, Dilma Rousseff, where the conservatives called on leftist supporters to "Go to Cuba!"
The conflict of fear
Psychologist José Paulo Fiks is a trauma researcher at the Federal University of Sao Paulo. He sees yet another aspect in the fascination with North Korea: It reminds him of the fear of a nuclear strike he experienced in Europe during the Cold War era in the 1980s.
According to Fiks' assessment there are no traumatic memories of war in Brazil, as there are in North Korea. Apparently the trauma ofthe military dictatorship (1964 to 1985) has also very much faded away. It appears that Brazilians are indeed trying to understand what is happening inside the isolated universe of North Korea.
The Brazilians actual fear is more triggered by daily life. "Our brains' receptors and alarm systems are more directed at Brazilian reality. They are directed at the daily violence that is more present in the streets of South America than anywhere else in the world. "
The level of fear differs between Brazil's social classes: The richer people are, the more secure they tend to feel, because they are better able to protect themselves, says the psychologist. But a nuclear disaster reduces those differences, and people suddenly realize they could all be victims to the same extent. "And this is a fear that many Brazilians cannot escape," says Fiks.