In a joint statement, the leaders of Germany, France, Canada and the US said they had "full confidence in the British assessment" that the Russian state was behind the poisoning of a former Russian spy in England earlier this year.
Ex-agent Sergei Skripal and his daughter Yulia narrowly survived the March attack, involving the deadly nerve agent Novichok, in the southwestern city of Salisbury.
Britain on Wednesday announced attempted murder charges against two men — Alexander Petrov and Ruslan Boshirov — who it alleged were members of Russia's military intelligence service.
Read more: 'Evidence for culpability points to the Russian state'
In Thursday's statement, the four NATO countries said they supported Britain's conclusions about the two suspects and "that this operation was almost certainly approved at a senior government level."
They also urged Moscow to disclose its alleged Novichok program and pledged to "disrupt together the hostile activities of foreign intelligence networks on our territories."
Read more: Britain urges EU to toughen Russia sanctions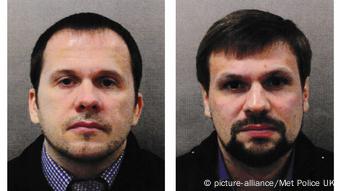 The suspects were traveling on Russian passports under the names Alexander Petrov and Ruslan Boshirov
Britain appeals to the UN
Later Thursday, British UN Ambassador Karen Pierce reiterated before the 15-member UN Security Council in New York that the evidence pointed to Russian involvement.
"We and our allies will want to think about how we push back on this sort of Russian activity, which is not only malign, it's also reckless," Pierce said.
Russian UN Ambassador Vassily Nebenzia hit back, alleging that London's evidence was based on inconsistencies that were "off the charts."
He added that Britain was only interested in unleashing "a disgusting anti-Russia hysteria."
Read more: UK nerve agent attack a 'serious violation' of international agreements
British Security Minister Ben Wallace was more direct in an interview with the BBC in which he said Russian President Vladimir Putin was "ultimately" responsible, prompting an angry response from Kremlin spokesman Dmitry Peskov.
"For us any sort of accusation regarding the Russian leadership is unacceptable," Peskov told journalists. "Neither Russia's top leadership nor those in the ranks below, nor any official representatives have anything to do with the events in Salisbury."
Read more: Britain and Russia clash over chemical weapons
The poisoning on British soil has seriously damaged relations between Moscow and London. The incident led Britain and its allies to expel dozens of Russian diplomats. Russia in turn deported several UK officials.
nm/kl (AFP, Reuters, AP, dpa)
Each evening at 1830 UTC, DW's editors send out a selection of the day's hard news and quality feature journalism. You can sign up to receive it directly here.