It seemed clear that a brighter day had dawned for Polish-EU relations, following the sweeping victory of Poland's pro-Europe Civic Platform (PO) party in snap elections.
European leaders on Monday voiced relief at the victory of pro-EU liberals in Poland's elections, which means the ouster of euroskeptic Prime Minister Jaroslaw Kaczynski.
European Commission chief Jose Manuel Barroso hailed "the European spirit of the Polish people," after opposition leader Donald Tusk's Civic Platform had routed Kaczynski's conservative Law and Justice party at the polls on Sunday.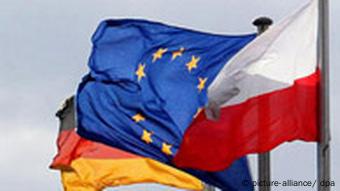 EU-Poland relations may have just gotten easier
Germany had also been keeping a close eye on the election outcome, and it was little secret that Berlin had hoped to see a change at the top.
"The German government followed this election with interest," government spokesman Thomas Steg told reporters. "We have an enormous interest in good, close, neighborly ties with Poland and we hope that the offer for dialogue and for readjustment will be seized by the new government in Warsaw under Donald Tusk."
German Foreign Minister Frank-Walter Steinmeier Monday congratulated Donald Tusk on the victory of his Civic Platform (PO) in the Polish parliamentary elections, saying the electorate had given him "a clear mandate for a political change of course."
"This clear result shows one thing in particular: The Polish electorate has given you a clear mandate for forming a government and thus for a political change of course," Steinmeier said.
Undoing the Kaczynski damage
The PO took a projected 208 seats in parliament, routing the conservative Law and Justice Party of Prime Minister Jaroslaw Kaczynski and his identical twin brother, President Lech Kaczynski.
The conservatives are expected to get 164 seats. Lech Kaczynski still has three years to go in his presidential term, but the poll abruptly ended the brothers' unusual concentration of power by ousting the prime minister.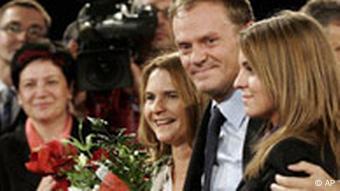 Donald Tusk celebrates his PO party's victory
Ties between Berlin and Warsaw remain tinged with bitterness decades after the end of World War II and took a turn for the worse over the past two years under the Kaczynskis, who exploited historical grievances to win popular support.
In June, matters hit a low point when the prime minister invoked the carnage wrought by the Nazis in the row over EU voting rights, saying that without the war Poland would today be a nation of 66 million people instead of 38 million.
EU voting rights
The treaty negotiation process ended with an agreement at an EU summit in Lisbon last week, but Warsaw was granted concessions to avert the possibility of a Polish veto.
Steg said Germany was hoping for close cooperation between the new Polish government and other partners within the 27-member bloc.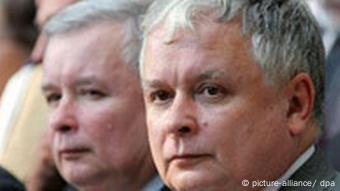 Double trouble: the unusual reign of the Kaczynskis has ended
"We hope that also in European politics the coordination with Poland will continue to be very constructive," he told AFP. "We are now waiting for the election majority to translate into a new government and look forward to working with the new government in Warsaw."
Speaking to his supporters at election headquarters after the victory was clear, the 50-year-old Tusk said: "I thank everyone who ... has helped restore hope among Poles."
Meanwhile officials in Moscow said they were optimistic that Warsaw would now reverse its veto on a sweeping EU-Russian partnership deal.
Tusk aims to retrieve expatriates
Tusk has also promised to cut taxes to stoke the already red-hot economy and lure home the more than one million Poles who have moved to Britain and Ireland seeking jobs.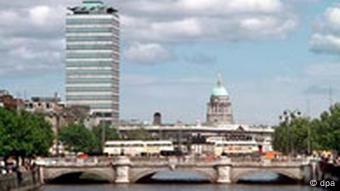 Many Poles have left for places where there are jobs --- like Dublin
Expatriates as well as young, urban, centrist voters in Poland turned out in droves to end the Kaczynski duo's two-year grip on power. Participation reached almost 54 percent -- the highest level since the communists' fall in 1989.
Despite his popularity at home, Tusk is likely to ruffle feathers in Washington because of his pledge to bring home the 900 Polish soldiers serving in Iraq.
"Poland's foreign policy is going to change significantly," Pawel Swieboda, a former foreign ministry official who now heads a Warsaw think-tank, told the AFP news agency. "PO will reinforce its European plank and won't take American proposals as they come."
Tusk's Iraq promise is highly popular in Poland, where opinion polls show more than 80 percent oppose the mission. Warsaw has been one of the closest US allies over Iraq, with Polish troops taking part in the 2003 invasion.