German economists and analysts are generally very optimistic about the future of Sino-German business relations.
One of them is Achim Haug, the Asia-Pacific consultant at Germany Trade and Invest, which is a state organization that gives advice and support to companies looking to work and invest abroad.
"Germany and China as a team are going to work extremely well together," he predicts. "Even if the massive growth rates drop a bit, the growth will stay."
Germany and China brought closer by crisis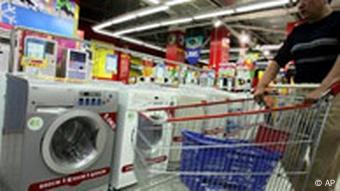 Chinese shoppers are showing more interest in goods made in Germany
As the world struggled to get out of the financial crisis, Germany and China came closer together. Beijing injected a lot of time and cash to reverse the negative impact, and in 2010 China once again had growth rates of around 10 percent.
Many of Germany's key industries benefitted. Thanks to orders from China, the German electronics sector posted profits of around 12 percent. Car manufacturers doubled their sales and chemicals giants Bayer and BASF had nothing to complain about either.
China is now the biggest exporter into Germany and its biggest trading partner outside of the EU. Germany is China's biggest European investor.
Boosting domestic demand
This successful cooperation looks set to continue. In March, Beijing is due to launch the 12th Five Year Plan, which will partly focus on sustainable development.
"China is a huge market for green technologies and German manufacturers lead the world market," says Haug, who expects German companies to profit significantly.
"China also wants to improve its transport infrastructure, high-speed train lines and airports. China is on the way to becoming more innovative, moving away from cheap wages and towards hi-tech," he adds.
The new Five Year Plan is also expected to place less emphasis on an export-driven economy and more on boosting domestic demand and consumption.
Finding the niche
Haug says it is all about finding a niche market and occupying it. He thinks German companies will also benefit from China's increasing interest in high-quality consumer goods.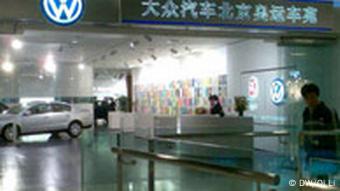 German car manufacturers have placed their bets on the Chinese market
Four out of five luxury cars sold in China are German. Sales of premium cars are expected to double by 2015. Not surprisingly, BMW, Daimler and Audi are already planning to expand their activities in China.
Although there has been some criticism that German companies are becoming too dependent on China, Christof Roemer from the Cologne Institute for Economic Research does not think there is any cause for concern.
"Companies are always on the lookout for new markets," he points out. "It is an advantage if these markets exist. The fact that there is more and more international interlinking because of globalization means that mutual dependencies are bound to arise."
Roemer and other German analysts predict that China's importance for German companies will continue to grow, not only in terms of sales and production but also research and development.
Author: Danhong Zhang/act
Editor: Thomas Baerthlein