Writing in the German daily "Frankfurter Allgemeine Zeitung," Steinmeier said he wanted to avert a "new and dangerous arms race" to ensure peace in Europe and beyond.
He said a new nonproliferation deal on conventional arms would be "a proven means for transparency, risk prevention and trust building."
In an apparent reference to Russia's annexation of the Crimea region of Ukraine, Steinmeier accused Moscow of violating basic, non-negotiable principles of peace, breaking delicate bonds of trust painstakingly built up over decades.
"At the same time, we must all be united in the desire to avoid a further twist in the escalating spiral," he wrote in his opinion piece, which was published Friday.
Even before the Ukraine conflict, there was a sense that a new confrontation was building, Steinmeier said. He then called for a "structured dialogue with all partners who carry responsibility for the security of our continent."
Comprehensive pact
New military capabilities, including the use of drones, must be taken into account, the foreign minister insisted, adding that "true verification" of arms would be vital to any successful pact, along with the inclusion of regions "whose territorial status is controversial."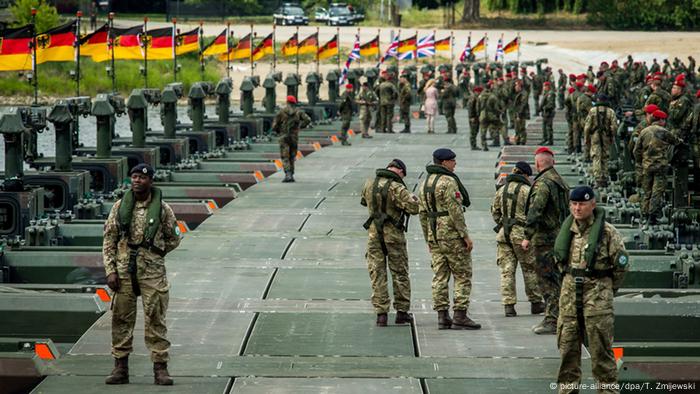 Both NATO and Russia have increased the number of military exercises in recent months
He suggested that the Organization for Security and Cooperation in Europe (OSCE) could be a forum for talks.
Steinmeier has previously criticized NATO for staging military maneuvers in Eastern Europe, which he said amounted to "saber-rattling and shrill war cries" that could worsen tensions with Russia.
His Social Democratic Party (SPD) generally backs a more conciliatory stance towards Russia than Chancellor Angela Merkel's conservative bloc.
On Wednesday, a group of former foreign and defense ministers said Russia and NATO must agree common rules to handle unexpected military encounters to reduce the risk of inadvertently triggering a war between Moscow and the West.