Richenhagen, whose company, AGCO, sells mainly on the North American market, but has substantial exports to Asia-Pacific, has been critical of US Commerce Secretary Wilbur Ross in recent months as the trade spat between the US and China escalated. On Monday he turned his attention to US President Donald Trump.
"When you talk to a populist who doesn't want to go too much into detail, you need to answer in a simplistic way and need to explain to him basically why he might be wrong in the first place and secondly what can be done," he told DW.
"Overall, the business community is very negative about protectionism. We like and need free trade, so that's what we try to support," he said.
AGCO, a designer, maker and distributor of agricultural machinery, is a NYSE-listed company that expects net sales of around $9.1 billion (€7.8 billion) in 2018, annual growth of 9.6 percent.
Read more:Opinion: US import tariffs — nerves of steel, round two
Asked if the United Staes' lowest level of unemployment since 1969 meant Trump was doing something right, Richenhagen said his tax reform was something everybody supported.
"But overall I think he needs to change his mind. He always talks of a trade deficit with the EU and that's only half-true because if you add in all the services and everything else the Americans are doing here [in Germany], it looks much better. It looks very, very balanced. But he doesn't want to understand that."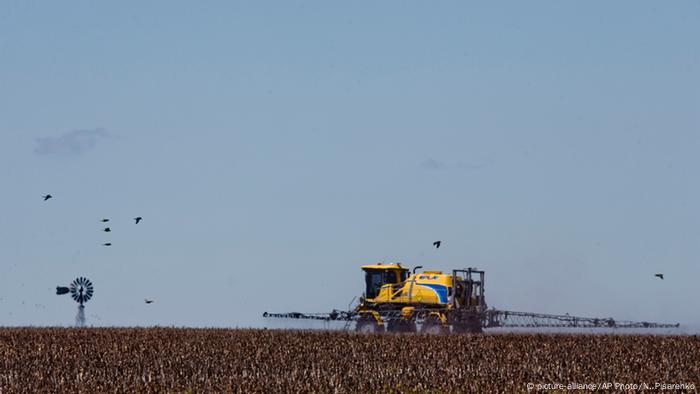 The market for agricultural machinery is growing globally
What can Germany do?
Asked what Germany could do to improve the situation, Richenhagen said German Chancellor Angela Merkel needed to talk to Trump and should simplify her speech.
"I think there are some things which have to be tackled, like car tariffs, which are different between Europe and the US, and also the contribution to NATO. I think these are things where he might have a point.
"But I think they need to get a little bit more into a conversation. Trump is over-reacting all of the time and business needs consistency and we need to understand what the rules are. Now we are surprised on a daily basis by strange initiatives," he said.
Agriculture a key sector
Agricultural products would be one of the biggest winners if a trade war with China is avoided. China imports a large amount of US agricultural and farm products and higher duties would hit the profits of many US companies.
In late May, Trump tweeted that China had agreed to buy "massive amounts" of agricultural products from the US. This after US Treasury Secretary Steven Mnuchin said a trade war with China was "on hold," adding that the US expected to see a rise of 35-40 percent in agricultural exports to China in 2018. Since then, however, the situation has deteriorated.
Foreign Agricultural Service data from the US Department of Agriculture show that China is the second-largest destination for US agriculture exports at $19.6 billion in 2017.
Each evening at 1830 UTC, DW's editors send out a selection of the day's hard news and quality feature journalism. You can sign up to receive it directly here.