Macron's itinerary during his state visit to India will include among other things a cruise on the river Ganges and a private dinner with Indian Prime Minister Narendra Modi.
Sightseeing aside, experts believe that relations between both sides — which are based on a 20-year-old strategic partnership signed by former French President Jacques Chirac and former Indian Prime Minister Atal Bihari Vajpayee — are poised for an even bigger leap.
One of the main highlights of this trip will see Modi and Macron co-chairing the founding conference of the International Solar Alliance (ISA). The ISA was a flagship Indian initiative launched by Modi and former French President Francois Hollande on the sidelines of the Paris Climate Conference in 2015.
It is all the more significant since Modi gave the Paris accord an important vote of confidence by committing to stay with it and pledging to reduce emissions, after the US famously pulled out of the treaty.
The ISA is the first international intergovernmental treaty-based organization headquartered in India comprising 56 signatories, of which 26 have ratified the treaty. It aims to provide a cooperation platform for solar-resource rich member states where the global community, government agencies, private companies, and various industries can help contribute toward increasing the use of solar energy.
Bolstering the partnership
"The relationship has been underpinned by trust, convergence of interests on both regional and global issues and by a shared heritage," Pallav Shah of the Observer Research Foundation, a think tank, told DW.
While all issues concerning the India-France Strategic Partnership will be discussed, cooperation in defense, enabling India's access to France's military bases in the Indian Ocean, advancing a 50-year-old space partnershipand an agreement on the nuclear power sector will be the major takeaways.
"This partnership has grown steadily, with no major political differences. What will be important to note is that Macron will make a case to push for the increasing role of France in world affairs," Gulshan Sachdeva, an expert on European Studies, told DW.
Sachdeva reckons that with the United Kingdom's role in Europe heading for decline post-Brexit and German Chancellor Angela Merkel being kept busy with domestic politics, Macron is emerging as a de facto European leader.
"He has also presented his vision to take the deadlocked European Union out of crisis and toward greater integration. He is clear that a strong and united Europe could be used as a tool to improve France's position in world affairs," said Sachdeva.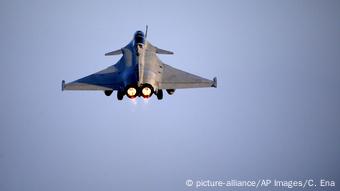 New Delhi agreed in 2016 to buy 36 Rafale fighter jets from France's Dassault Aviation
Ummu Salma Bava, professor at the Center for European Studies at Jawaharlal Nehru University agreed, told DW that New Delhi and Paris would seek convergence of interests on key strategic issues.
"Macron will seek to build a bilateral platform in the face of growing disruptions coming from China, Russia and the US. Both countries would want to optimize gains by combating threats jointly and therefore there will be more projects and benefits from India's growing economic presence," Bava said.
"European powers such as France and Germany are increasingly worried about China's behavior. They would like greater stability and some balance in Asia, and therefore see India as a possible partner in this endeavor," said Rajesh Rajagopan, a professor of international politics.
Rajagopan added that China's increasing closeness to Russia worries the two European nations even more. "In addition, India is a potential investment destination, as well as a major buyer of French weapons. All of these are areas that could benefit France."
Shared interests
A recent research paper published by Carnegie India, a think tank on foreign and security policy, pointed out that both India and France are also eager to expand their strategic engagement in the Indo-Pacific region given growing geopolitical turbulence and more aggressive maritime maneuvering.
"Bolstering their alliance is bound to move India away from the legacy of nonalignment and military isolationism, pushing it progressively toward coalition building with other powers," the paper said.
Authored by experts Darshana Baruah and C Raja Mohan, the report further said, "As they (India and France) explore their bilateral cooperation on regional security, the Indo-Pacific offers ample potential for such an enterprise."
Read more:
Are China and Russia challenging US military dominance?
New France-India military aerospace joint venture
Experts point out that a nautical pact with France is a natural expansion of the Indian navy's operational footprint across the Indo-Pacific region, given that France is the only European power with a strong military presence in both the Indian and Pacific Oceans.
Notwithstanding the controversy in India over the purchase of 36 Rafale jet fighters, where opposition political parties have alleged corruption, Macron said in an interview with the magazine India Today that France was not averse to Modi's government wanting "to divulge some of the critical information covered under the secrecy clause of the deal."
France is reportedly looking to expand the $7.8-billion (€6.32 billion) deal, in addition to concluding other such agreements. Macron will be accompanied by CEOs of almost all top French defense firms.
Trade between India and France in 2016-17 touched $10.95 billion, with France listed as the ninth largest foreign investor in India with a cumulative investment of over $6 billion from April 2000 to October 2017, according to Indian government figures. The investments span various sectors, including defense, automobiles, aviation and pharmacy.