In financial circles, they are referred to as PIGS - Portugal, Ireland, Greece, and Spain - and sometimes even PIIGS, if you include Italy as one of the European countries at risk of going bankrupt in the near future.

The common denominator for these eurozone countries is mounting budget deficit coupled with weak economic growth. In Ireland and Spain, the financial crisis has led to the collapse of the construction and real estate industries.

Portugal: Financial experts say, to stay afloat, Lisbon will need at least 20 billion euros ($26.4 billion) during 2010 - most likely in the form of government securities. Debts totaling six million euros are due by the end of May. The interest rates that Portugal will have to pay for those securities are rising starkly, due in most part to the country's sinking credit ratings.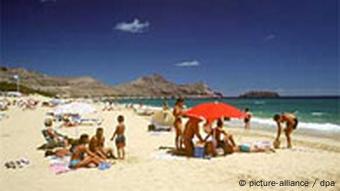 Portugal's economy is beached, say analysts


Lisbon is nowhere near as indebted as Greece, but its economic base is similarly weak. Competition for Portuguese jobs is on the decline as most industries are increasingly unable to compete with its European and global counterparts. Most companies are in debt, with budget problems increasingly threatening solvency. The Portuguese government has attempted to launch a massive austerity package; however, this was met with fervent protests across the country. The government is expected to take on new debts of eight percent of GDP next year, as their total debt quota remains around 85 percent. The official EU limit for annual debt is three percent, for total debt 60 percent.

Ireland: Empty office space, houses for sale, deserted shopping streets - these are the indisputable signs that the crisis has hit Ireland. The value of real estate has gone down in many cities by around 50 percent. Most people who took out enormous loans following the economic boom of the 90's are now unable to pay them off. Public deficit in the country is set to increase to almost 15 percent of GDP this year, even more than in crisis-ridden Greece.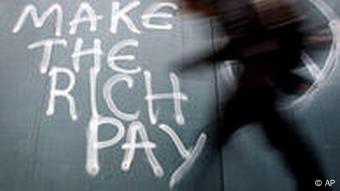 The crisis has affected more than just banks in Dublin
The Irish government is desperately attempting to save money, but this has proved more difficult than imagined. The state has radically cut public service and in the process reduced further risks that government loans turn into unpayable debts. Ireland's total debt levels are around 82 percent, comparable to Portugal. This is an improvement to recent ratings, which had Dublin's debts at over 90 percent.

Italy: Italy's finance politicians resent their country's status as one of the PIGS. Indeed, Italy's current debt of 5.3 percent of GDP is relatively low compared to those four countries. However, total debts in Italy are almost double the allowed limit - at a whopping 117 percent of GDP. Financial markets have apparently become accustomed to these levels, as Rome's total debt was almost 100 percent.

Italy, although on a financial tightrope for quite some time, has been able to manage its economy. This is due to the fact that the country's industry is better constructed than some of its southern European neighbors. In 2010, the Italian economy is supposed to grow by 0.7 percent.

Spain: Finance minister Elena Salgado has been quoted on a number of occasions saying "We are not Greece!" According to the numbers, she is right. Spain's total debts are around 66 percent of GDP, with 2010 levels close to 10 percent. The interest rates Spain has to pay for its government loans are still bearable at this point, though they are increasing. On Wednesday, however, Spaniards were shocked to learn that their credit rating had been downgraded by the S&P rating agency.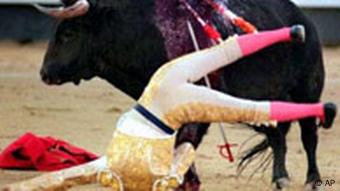 Wednesday's announcement took Spain by surprise


The Spanish government, which holds the rotating EU presidency, has passed an austerity package totaling 50 billion euros in an attempt to control its growing deficit. Unemployment in the country is around 20 percent, and the Spanish economy - the fourth largest in the EU - is set to decline this year while most others in Europe have already bounced back from the global recession. Financial experts stress, however, that Madrid is still far from collapse.
Outside the eurozone: Hungary, Latvia and Romania have already received financial aid from the EU and the International Monetary Fund in order to avert state bankruptcy. In 2008, Hungary was allotted 20 billion euros in aid, but with the help of drastic budget cuts it finally only needed 9 billion.
Latvia, meanwhile, has been drip-fed 7.5 billion euros from the international money lender. Salaries for civil servants have been cut in the Baltic state, which is already in an unemployment crisis. The governing coalition collapsed in February 2009 under the weight of cost-cutting measures.
Romania has received a combined credit of 20 billion euros from the EU, the IMF and the World Bank. The IMF suspended its payments last winter because Romania was not complying with the lender's strict requirements. Romania's new government has since promised to improve, and is now allowed to obtain credit once again.
European countries outside the EU: Ukraine obtained 12.2 billion euros from the IMF in 2009, but payments were suspended after the country did not implement its austerity measures. With 2 billion euros of credits, Belarus is also deeply indebted to the IMF. Serbia, Bosnia-Herzegovina and Moldova have also requested aid up to 3 billion euros. Moldova, Europe's poorest country, will receive 425 million euros interest-free until 2011.
Iceland also went practically broke in November of 2008, when its banks collapsed, plunging the government into financial crisis. The IMF agreed to give the island 1.5 billion euros. Norway and other Nordic countries gave Iceland twice that sum as part of a multilateral credit agreement.
Great Britain: The solvency of Britain's banks fell in February according to rating agencies. The nation is having trouble working its way out of the recession. Last year its new debt was at about 13 percent - as much as Greece's. Britain's total debt was around 840 billion pounds (967 billion euros), about 68 percent of GDP. The government intends to wait until the next fiscal year to pass a resolution on new austerity packages, after next week's parliamentary elections. If Britain doesn't hit the brakes soon, though, it could see a dramatic aggravation of its debt crisis.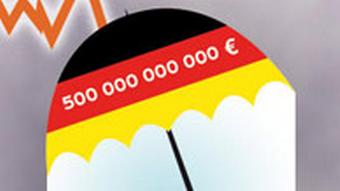 Germany needs 500 billion euros to weather the storm
Germany: And what does all this mean for the EU's largest national economy? Germany's budget deficit is relatively small, at three to four percent of GDP. Still, the total of Germany's new borrowing is enormous. By the end of 2013, Germany and its states must obtain 500 billion euros on the financial markets. The entire national debt has risen to two trillion euros, and the percentage of national budgets which goes to paying interest to investors is swiftly rising.
Germany, having long been the benchmark in Europe, must now offer three percent interest on its bonds. Starting in 2016, the new constitutional debt brake will take effect, prescribing a nearly balanced budget.
Author: Bernd Riegert (glb/dl)
Editor: Susan Houlton