US President Donald Trump on Thursday accused the Central American countries of El Salvador, Guatemala and Honduras of conducting an "assault" on the United States by allowing people to travel north into Mexico.
He went on to threaten to use the military to close the border if Mexico did not stop the migrants traveling through the country to the United States. Trump appealed to Mexico to stop the migrants, and also warned that he would stop aid payments to Central American countries "which seem to have almost no control of their population."
Trump's threats — which appeared in a string of tweets — came as thousands of migrants made their way through Guatemala toward the Mexican border.
One single caravan, estimated to include between 1,500 to 3,000 people, left Honduras headed north last Saturday. Many, seeking to escape gang violence and poverty, are believed to be seeking a route to the United States. Some told the AFP news agency that they planned to enter Mexico en masse.
Trump's tweets also blamed Democrats for the situation, claiming that weak laws were to blame, and said the migrants included criminal elements. It remained unclear whether Trump's threat would result in any military deployment.
Read more: US-Mexico border scandals sink bilateral ties to historic low
Huge quantities of goods and hundreds of thousands of people move across the border legally each day.
Trump has made immigration across the border from Mexico, including his call for a wall across the frontier, a central policy of his administration. His administration's policy of separating familesand detaining thousands of children, mostly from Guatemala, Honduras and El Salvador, prompted widespread condemnation.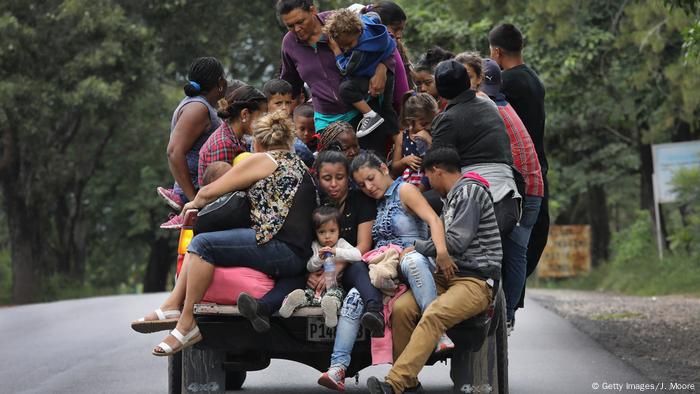 Thousands headed north into Guatemala and Mexico during the week
Playing to the crowd?
While Trump's tweets on Thursday were particularly robust, Mexico's foreign minister-designate Marcelo Ebrard downplayed them, saying they were aimed at his US political base.
"The position of President Trump is the one he has always raised," Ebrard told local radio station Radio Centro. "It was predictable and also the election process is very close, so he is making a political calculation."
Read more: Migrants gamble with their lives on the 'death train'
Mexico has said it will ask the United Nations refugee office for help with the arrival of the Honduran migrants, who include many families with children.
Foreign Minister Luis Videgaray said he planned to make the formal request in a meeting with UN Secretary-General Antonio Guterres in New York.
"For the Mexican government it is essential first to respect and protect the human rights and fundamental dignity of all of the migrants and to do so under a logical and humanitarian and respectful treatment," said Videgaray.
rc/sms (Reuters, AP, AFP, dpa)
Each evening at 1830 UTC, DW's editors send out a selection of the day's hard news and quality feature journalism. You can sign up to receive it directly here.