Sitting by the train tracks, Luisa Marina and her 11-year-old daughter Angie, from Honduras, are patiently waiting for "La Bestia" — The Beast in Spanish. They had to walk for three days to reach the city of Palenque, in the south of Mexico, and have been sleeping in the street for the past two days.
"I am afraid to take this train because I have heard so many bad stories about it. I pray to God that he will protect us and that we will reach our destination safely," Luisa Marina says as she stands near a few dozen migrants who are also waiting for the train.
Read more: Donald Trump's migrant family separations reversal too little, too late
La Bestia, also called the "train of death," consists of a network of cargo trains that runs through Mexico from the southern border with Guatemala to the United States. Every year, up to half a million migrants from Central America risk their lives crossing Mexico on top of these trains.
While the ride represents a faster and cheaper way to cross the country, migrants risk being attacked, raped or even killed by local cartels and gangs, who don't hesitate to rob them of the few belongings and money they bring with them.
Risking everything for a better life
It's 3:30 a.m. when the train finally arrives, unannounced. Luisa Marina and her daughter, asleep by the track, are awoken by the sound of its metallic wheels. Luisa Marina grabs her backpack —her only piece of luggage — and walks rapidly towards La Bestia with her daughter.
"I am relieved; we won't have to sit on top of it," Luisa Maria says, while helping her daughter climb onto a catwalk between two wagons.
Falling is a very real danger for those who sit on top of the train, where they have nothing to hold on to. Injuries such as amputations, and even death, are common.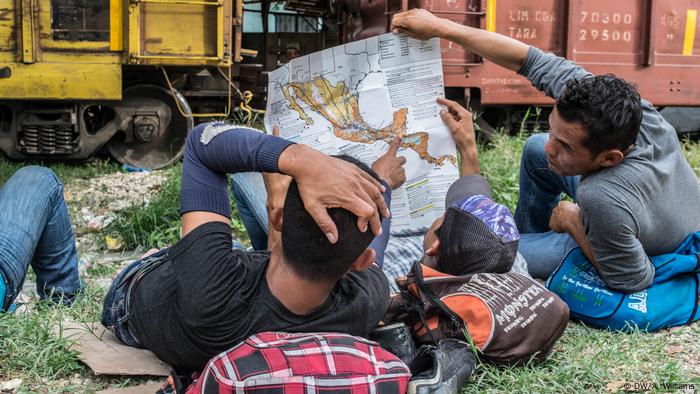 Up to half a million people ride these freight trains every year
"This train is not made for people to climb on. Migrants often fall and die. Sometimes they use the train's hand brakes to make it stop and allow people to climb. They also sometimes activate the brakes by mistake when they climb on the roof of the train, which can cause derailments," Octavio, who is in charge of the train's maintenance, explains, while taking a last look at the brakes.
Standing with a dozen other migrants between two wagons, Luisa Marina waits anxiously for the train to depart.
"I heard that in the United States, they are separating families and deporting the parents. I could never bear being separated from my daughter. I would rather go back to my country than leave her behind," Luisa Marina says, worried.
A long and hazardous journey
The air is hot and humid and the sound of the train's couplings striking against one another is deafening. The migrants are fighting fatigue as the sun rises. Some of them take advantage of the morning light to climb onto the roof, where they lie down to nap.
"We call it La Bestia because it's very dangerous. We can fall. It's like riding a bull," Jorge Cruz explains, sitting on top of the train.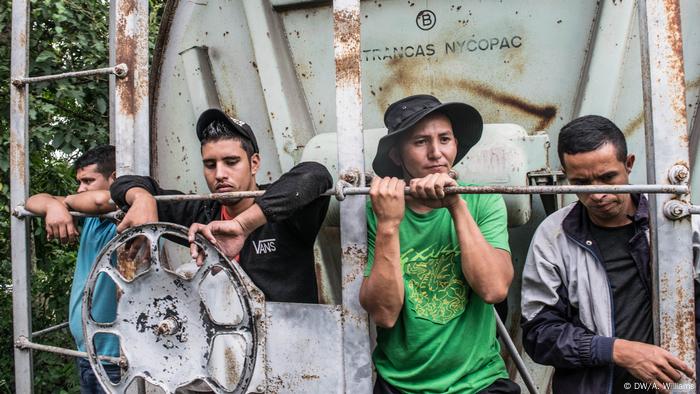 'La Bestia' is a free, if dangerous, way to travel thousands of kilometers across Mexico
The Honduran in his twenties, who used to live in the state of Maryland, was deported from the United States about a month ago. He is now trying to return. "I was living a quiet life, but the immigration services caught me and refused to grant me asylum. I have to keep fighting to get a better life," he says, while dodging dangerous tree branches.
As the train unexpectedly stops, a group of young men decide to hop off and gather mangos from the forest. Most of them haven't brought enough supplies to last the journey.
"There is nothing else to eat on the train, and we don't have money to buy food. We will have to survive by gathering fruits we find on the way," explains Angel, who is traveling with his sister-in-law and her 4-year-old son.
Read more: Notorious Nicaragua jail holds new generation of political prisoners
Waiting by the side of the tracks, other young men take advantage of the train's sudden stop to climb on. Among them is an amputee hopping on one leg, holding his crutches in one hand. "I lost my leg last year, after jumping from the train. I was trying to escape a Mexican immigration patrol," the Honduran explains.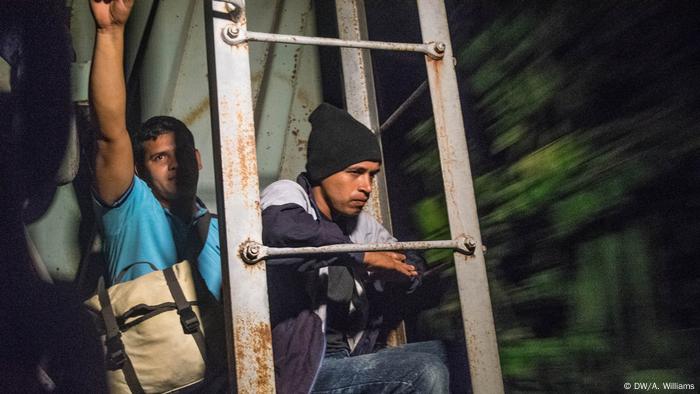 Passengers on La Bestia must remain alert to avoid falling off or getting hurt
Sitting at her mother's feet, Angie is slowly eating a mango. She and her mother are traveling without money.
"We walked for three days to get here. Sometimes we would find something to eat, but sometimes no. It hurts to admit it, but we had to drink water from the toilets," Luisa Marina explains. The two have already been on the train for more than 10 hours and don't know when it will reach its next destination, a city called Chontalpa, around 1,500 kilometers (930 miles) from the closest US port of entry.
"All mothers do is think about their children. We don't want anything bad to happen to them. This is why we bring our children with us. We can't let them suffer at home," Luisa Marina says.