The northeastern Mexican border state of Coahuila has found itself at the epicenter of Mexico's kidnapping crisis. Because of the large-scale presence of organized crime, it is home to 42 percent of the country's abductions.
Drug trafficking gangs use forced disappearances as a way to enforce social control over a fearful local population.
'I became an activist'
Maria Elena Salazar's son, Hugo Marcelino Gonzalez Salazar, is one of the 37,435 missing persons in Mexico. "I'll be right back, mom," were the last words she heard from her son over the phone before he vanished nine years ago in Coahuila.
Read more: Mexico fighting endless war against cartels
At police stations in the city of Torreon, they would tell her "don't worry, he will be back soon." There, she met a group of mothers seeking the same answers and together they formed the civil group FUNDEC, which has organized 150 families from Coahuila to demand the authorities take action to halt kidnappings.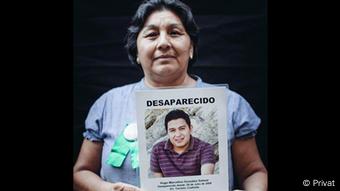 Salazar has been searching for her son ever since his disappearance in 2009
"From the day he disappeared, I became an activist," Salazar told DW. She has been investigating her son's disappearance all on her own, compiling files, following leads and even hanging "missing" posters that she says authorities themselves tear down. "They don't want society to realize what an enormous problem this is," Salazar said.
Her husband drove around the streets where it's rumored criminals drop their victims, but found nothing. In her exhaustive search, Salazar learned there is often a stigma associated with missing persons in Mexico. "If something happened to him, it must be that he wasn't up to any good," neighbors would tell her. This idea, Salazar argued, is spread by authorities themselves "to avoid facing their own responsibility."
For years, families in Coahuila have taken part in search operations alongside local law enforcement investigators. Armed with shovels, they have unearthed hundreds of burnt human remains scattered across the region, a feature of organized crime's disposal methods that are meant to leave no trace.
Read more: Bound for US, migrants gamble with their lives on the 'death train'
These remains are rarely identified. "In Coahuila alone, authorities have 120,000 human remains and only 20 of them have been properly identified," Grace Fernandez of FUNDEC told DW. "There is a lack of means and trained professionals to carry them out, as the labs are currently overrun."
An overwhelmed justice system
Mexico's Special Office for the Search of Missing Persons is overwhelmed by the workload. Just 29 agents from the Attorney General's office and 58 policemen are handling some 1,000 federal cases. Victims' families have criticized what they view as a lack of effort in addressing kidnappings, calling the newly-created special office "insufficient."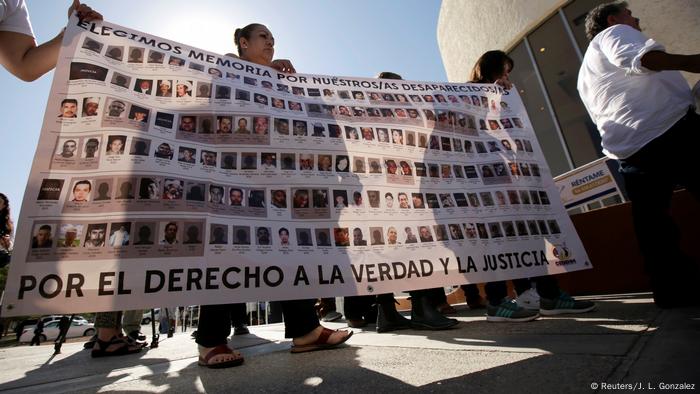 The families of kidnap victims say the Mexican government isn't doing enough to address the problem
Abel Galvan, of the Special Office for the Search of Missing Persons, defended the government's efforts, telling DW that starting next year, the authorities will add 100 more posts for the "titanic challenge" of implementing new laws to tackle kidnapping.
One of the main problems in addressing forced disappearances is holding perpetrators to account, according to Humberto Guerrero, who handles human rights at the research center Fundar. "Only 12 sentences have been handed down in more than 37,000 missing persons cases," he told DW. In Guerrero's view, collusion and active participation by the authorities in the crime itself drives the low conviction rate. "The law enforcement agencies are not going to investigate themselves," he said.
Read more: Lopez Obrador's policies for Mexico remain an enigma postelection
This was the case for Grace Fernandez's brother, who went missing at the hands of two police officers in 2008. Both Fernandez and Salazar have moved from searching for their loved one to pressuring authorities with the help of international organizations such as the United Nations.
"It means nothing to search everywhere, if we can't identify the remains we find and if the perpetrators are not punished," Salazar said.
Mexico, where a person goes missing every two hours, now makes up 66 percent of the 500 urgent missing persons requests that have been brought to the UN over the past six years, ahead of Iraq and Colombia.
Salazar has pledged to continue this fight for accountability and justice, unafraid of the repercussions. "Nothing worse can happen to me and while I am alive, I will continue demanding that Hugo comes home," she said.