Andres Manuel Lopez Obrador, known as AMLO, swept Mexico's presidential election last month amid accusations that he would usher in an era of left-wing populism. During Lopez Obrador's campaign, the current White House chief of staff, John Kelly, said he was "alarmed" by the prospect of his presidency. Mexican business owners even advised their employees not to cast their votes for him.
But, following AMLO's election victory, the Mexican peso remained just as strong as it had been over the past two years, and US President Donald Trump praised his counterpart and neighbor to the south as a "terrific person."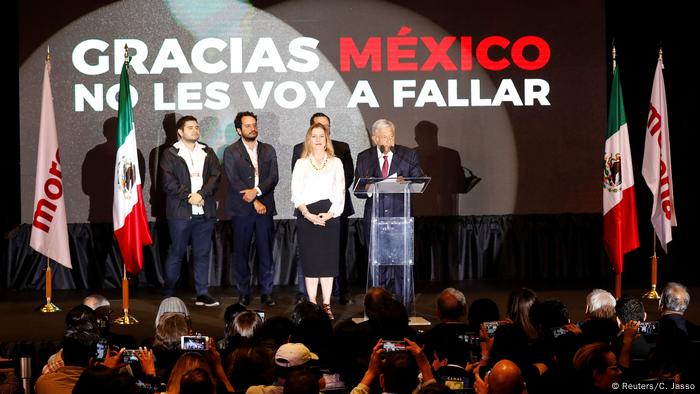 AMLO was elected president in early July. He will take office in December.
Now that the many pre-election anxieties have abated, Mexico's prospects are good, said Carlos Torres, CEO of the multinational Spanish banking group BBVA. "The new government's signals are positive," Torres asserted in a press conference. "Everything is positive."
Has the panic abated in just one month? Is praise being bestowed prematurely on the new government? Or is this all just a big show?
Mixed signals
Short-term expectations and speculation have more influence on financial markets than political decisions. For the rating agencies and stockbrokers, who look to polls for information, AMLO's victory was sealed long ago. "We expect consumer spending to increase," Gabriela Siller, chief economist at BASE bank, told DW. This would probably have a positive effect on the stock market.
Long-term investments depend in great part on the current renegotiation of the North American Free Trade Agreement (NAFTA). The result of this is uncertain, as President Trump is seeking to reach a separate bilateral accord with Mexico that excludes Canada before the US midterm congressional elections this fall. This responsibility has fallen squarely on the outgoing administration of Enrique Pena Nieto, which has largely disappeared from view. For now, it is AMLO who dominates all the headlines.
Read more: Mexico election: Lopez Obrador will fight back against Donald Trump, say expats
It is difficult to discern what political challenges Mexico will face come December, if the new president's promised "transformation" will take place, or if his time in office will only result in course corrections. "Just like Janus, the roman god of duality, AMLO and his people look to the future but also to the past," Mexican political writer Denise Dresser in a recent column.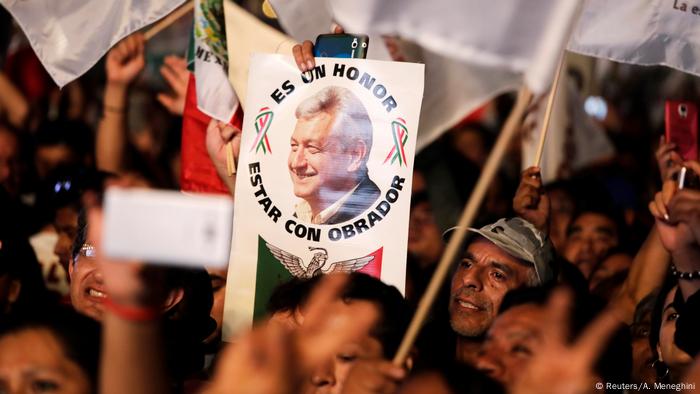 AMLO's election campaign was backed enthusiastically by many Mexicans
Populist promises
On the one hand, there are a host of populist campaign promises AMLO has made, which he has reiterated after his election, such as lowering his presidential salary, reducing the size of the bureaucracy and eliminating Christmas bonuses, private security guards, private doctors and drivers that public officials are granted.
He has also said that he would put the presidential plane up for sale and move government ministries out of Mexico City to other parts of the country. Experts say that these proposals are not only inefficient but also may end up generating more costs.
AMLO's proposal to reduce the financing of political parties by half could become a problem if private financing isn't curbed at the same time, the entryway for illegal contributions to political campaigns.
Contradictions
On the other hand, there is the information that ministers and advisers of the new government have leaked to the press. Contrary to AMLO's campaign pledge to revoke his predecessor's education policy reforms, the incoming education minister, Esteban Moctezuma, said instead that some aspects would be maintained.
Likewise, despite a promise to cancel construction of a new airport in Mexico City, that project will now just be re-evaluated.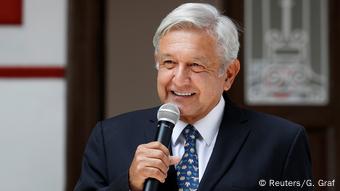 AMLO and his future administration have appeared to be at odds in certain moments
In matters of security, incoming Interior Secretary Olga Sanchez Cordero said she was in favor of legalizing drugs, a measure that the president-elect has always been against. Security is one of the most important issues for average Mexicans, and Alfonso Durazo, AMLO's designated security secretary, said the administration would propose an amnesty law for criminals, which has drawn criticism from civil society and victims' rights groups.
Among these contradictions, AMLO has also been criticized for appointing members of the previous political elite, just as the president-elect seeks to present himself as a change agent.
President Pena Nieto's new budget proposal will be introduced in the fall and AMLO's Morena party will be able to weigh in thanks to its parliamentary majority. This will be the first test to reveal what the political priorities of the government will be and how it plans to finance AMLO's campaign promises and address Mexico's important fiscal issues, such as pension financing, new infrastructure projects, and whether to borrow more money or raise taxes.