A US-bound caravan of at least 3,000 Central American migrants arrived in the Mexican city of Tapachula on Sunday after an hourslong march from the Guatemalan border.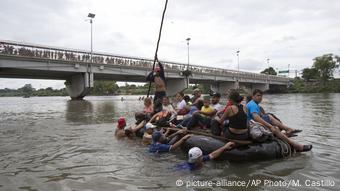 Central American migrants crossed the Suchiate River aboard makeshift rafts
Several hundred Mexican police in riot gear manned the main highway from the frontier as the group progressed north.
Some of the migrants, most of whom are from Honduras, entered through the official border crossing on a bridge spanning the Suchiate River.
Many also entered illegally, circumventing immigration authorities by swimming or paddling across on makeshift rafts.
US President Donald Trump has condemned the caravan, threatening to close the US-Mexico border if it doesn't turn back.
"Full efforts are being made to stop the onslaught of illegal aliens from crossing our Souther[n] Border (sic)," Trump tweeted. "People have to apply for asylum in Mexico first, and if they fail to do that, the US will turn them away."
"We don't yet know if we will make it to the [US] border, but we are going to keep going as far as we can," Rodrigo Abeja, one of the caravan's leaders, told The Associated Press. To get there, he will have to travel at least 2,000 kilometers (1,200 miles).
Read more: Hondurans fleeing poverty, violence
Bottleneck at the border
On Saturday, Mexican authorities refused to allow the caravan mass entry from Guatemala. Instead, only about 640 migrants were allowed through the official Suchiate River border crossing. Officials warned that those entering illegally would face deportation. The slow pace of processing meant about a thousand migrants were still trapped on the bridge.
Mexican authorities have insisted they will have to file asylum claims one-by-one to gain access to the country. It remains unclear whether their applications are likely to be accepted.
Local media in Guatemala reported Sunday that a further thousand migrants were on their way to the Mexican border.
Read more: Immigrants increasingly taking to sea routes to Mexico
Mexico's Interior Department said in a statement that federal and Chiapas state authorities were providing food and medicines to migrants, as well as legal counseling for those who applied for asylum.
Meanwhile, the Guatemalan government has organized a fleet of buses to take the migrants back to their native Honduras. Initial estimates suggest over 300 people have already taken up the offer.
Read more: Bound for US, migrants gamble with their lives on the 'death train'
Trump: Migrant caravan politically motivated
Trump has sought to make the caravan and US border security a central issue ahead of midterm elections in just over two weeks' time.
During a rally in Elko, Nevada, on Saturday, the president said: "The Democrats want caravans, they like the caravans. A lot of people say 'I wonder who started that caravan?'"
Read more: US opens new housing at Mexico border for migrant children, amid outcry
Trump went on to praise Mexican authorities for trying to halt the caravan's progress. "Mexico has been so incredible. Thank you Mexico and the leaders of Mexico, thank you," he said. "And you know why, because now Mexico respects the leadership of the United States."
Trump has threatened to cut aid to the region, deploy the military and shut down the US-Mexico border if authorities do not stop the migrants.
The caravan began in San Pedro Sula in northern Honduras last week, and grew in size as it traveled through Guatemala towards Mexico.
Honduras has seen violent street gangs brutally rule over large swathes of turf for years. With a homicide rate of nearly 43 citizens per 100,000, the country ranks among the poorest and most violent in the Americas.
Each evening at 1830 UTC, DW's editors send out a selection of the day's hard news and quality feature journalism. You can sign up to receive it directly here.
dm, nm/cmk (AP, AFP)