Berlin Mayor Klaus Wowereit's Social Democrats (SPD) and their designated coalition partners, the Left Party, said this week they are pressing ahead with plans to make the German capital smoke-free.
"We're planning a non-smoker protection bill," said Ingeborg Junge-Reyer, an SPD leader in Berlin and member of Mayor Wowereit's cabinet, after a round of coalition talks. She said the law could take effect as early as 2007.
"It will be a strict non-smoker protection bill. I can well imagine a complete ban along the lines of Italy or Ireland," Junge-Reyer said.
A revolution
Until now, politicians in Berlin have only spoken about legally outlawing smoking in public buildings and hospitals. Extending that ban to the German capital's estimated 10,000 bars and restaurants is a new proposal and one that is likely to trigger much opposition in a country known for its tolerant attitude towards smoking.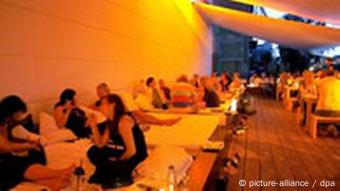 Smoking goes hand in hand with going out in Berlin
One in three Germans smoke, while Berlin has the highest per-capita number. Most restaurants do not offer non-smoking sections. The legislation, if passed, could indeed become something of a revolution in a country which has doggedly remained one of the last bastions for smokers in Europe.
It would also mark a sharp departure from the rest of Germany's federal states, which have to varying degrees resisted national restrictions on tobacco. A previous effort to introduce a nationwide ban on smoking in restaurants, cafes and bars aimed at bringing Germany into line with other European nations was blocked in September by Chancellor Angela Merkel's ruling conservatives.
A working group made up of representatives from the SPD, the conservative Christian Democratic Union (CDU) as well as from the health and consumer protection ministry is currently exploring ways of introducing a Germany-wide anti-smoking regulation.
Setting an example
Some hope that Berlin will now lead the way for the rest of Germany when it comes to curbing public smoking.
"I hope that the other states will now realize that our fear of smoking bans is unjustified," Sabine Bätzing, the federal drug commissioner, told Berlin daily Der Tagesspiegel. Berlin's initiative is a "signal and support" for a nationwide regulation that's urgently needed, Bätzing added.
Carola Reimann, a spokeswoman on health matters for the SPD parliamentary group, also said she hoped "the capital will set an example" for the rest of Germany. "If Berlin, with its thriving bar and restaurant scene, can take such a decision then it's a signal that can't be overlooked," Reimann said.
Laws governing gastronomy and the hospitality industry are the prerogative of state governments in Germany.
Last bastion for smokers
Many point out that Germany's liberal attitude to smoking is partly a reaction to Nazi anti-smoking drives. Hitler is said to have donated money in 1941 to the world's first institute dedicated to studying the dangers of tobacco.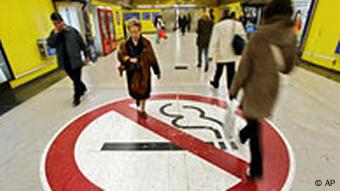 People pass over a no smoking sign in the Madrid underground
Whatever the reason for Germany's determined resistance to anti-smoking bans, it remains the only country in the European Union that has ignored and fought an EU ban on tobacco advertising.
Ireland imposed the world's first nationwide public smoking ban in 2004, followed by Italy, Sweden, Scotland, Norway and Spain. France said last month it would ban smoking in public places starting next year and in bars and clubs from 2008.