As political snubs go, this one is a doozy. German newspaper Die Welt is reporting that the Bavarian conservative Christian Social Union (CSU) party is not planning any campaign appearances with Angela Merkel, the head of Germany's main conservative party, the Christian Democratic Union (CDU). Instead the Bavarians are planning to invite a foreign guest, Austria's conservative chancellor, Sebastian Kurz.
"There won't be a female chancellor coming to my final speech, but there will be a male chancellor," Bavarian state premier Markus Söder is quoted as saying.
The jibe is but the latest incident in an ongoing spat between the two conservative parties, which function as a single parliamentary group at the national level in Germany's parliament, the Bundestag. At issue is Merkel's policy toward migrants. Söder, together with other CSU leaders like party head and current Interior Minister Horst Seehofer, want Germany to start turning away certain migrants at its national borders. Merkel considers this incompatible with the principle of freedom of movement under the European Union's Schengen Agreement and is seeking an EU-wide approach to the migrant issue.
The two sides are deeply entrenched, and there has been speculation that the CDU and CSU could end their parliamentary cooperation. Seehofer's role in the stand-off and his personal distance from Merkel have been well documented. But Söder is an equal if not more powerful force driving the hardline camp among Bavarian conservatives.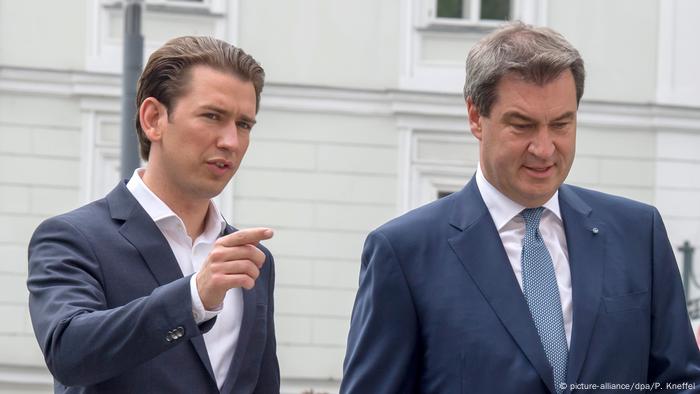 Söder has cozied up to Austria's Kurz, a fellow migration hardliner, while giving Merkel the cold shoulder
The vocabulary of the far right?
Since he inherited the state premiership from Seehofer in March, the 51-year-old Söder has made no secret of his low opinion of Merkel's policy on migrants and his skepticism that the EU can find a common approach to the situation.
In a controversial interview with German public broadcaster ZDF, Söder accused Merkel of taking "a unilateral national decision to open up its borders" that "abandoned its European partners" in November 2015, when Merkel decided to accept refugees lining up at Germany's borders.
Read more: Germany: Is Bavaria set for an anti-Merkel conservative swing?
Detractors say that Söder has adopted some of the language and ideas of the far-right populist Alternative for Germany (AfD) party. The state premier has come under fire for using the term "asylum tourism" for refugees who move from one EU country to another in search of the best situation, and for calling Germany a "Belehrungsdemokratie" — a German term for a democracy that treats it citizens as if the government knows better than they do.
So what is the background of this often prickly political figure?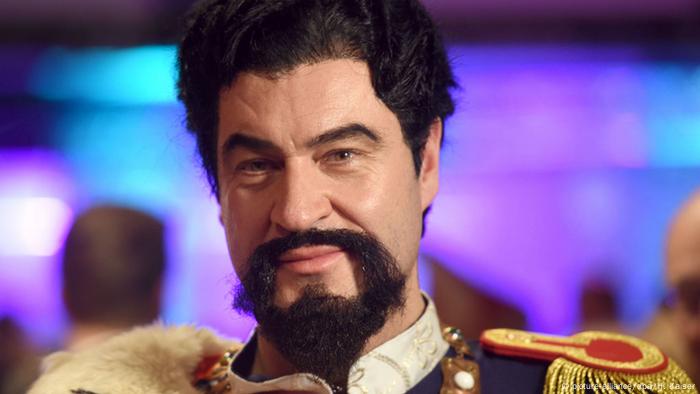 Söder's choices of Carnival costumes say a lot about him
Prince Luitpold and Homer Simpson
The stereotype of the Bavarian politician is a straight-talking man who's not afraid to pound the table and offend people. In many respects, Söder fits that bill.
The Nuremberg native grew up as an admirer of long-time hardline conservative CSU leader Franz Josef Strauss. After training as a lawyer and a journalist, Söder began working in politics full-time in the 1990s and established a reputation as being one of the most reliably conservative voices in Bavaria.
Söder opposed the pardoning of former RAF terrorists, the introduction of a minimum wage in Germany, and Turkey's bid to join the EU, while he has consistently supported the display of crucifixes in Bavarian public buildings. But he has also been known to advocate maverick positions. In the past, he has called for Greece to leave the EU and for the combustion engine to be phased out in the near future.
An amusing illustration of Söder's personality is his choice of Carnival costumes. This year, he went as Prince Regent Luitpold of Bavaria — perhaps an indication that he sees himself as a kind of regional potentate. But he has also dressed up as a drag queen, Mahatma Gandhi, Paul Stanley of the rock band Kiss and Homer Simpson.
For years, Söder played second fiddle to the 68-year-old Seehofer. But advancing age and the CSU's relatively poor showing in last year's German national election weakened the latter's position, allowing Söder, in essence, to demand that his older rival surrender the Bavarian state premiership.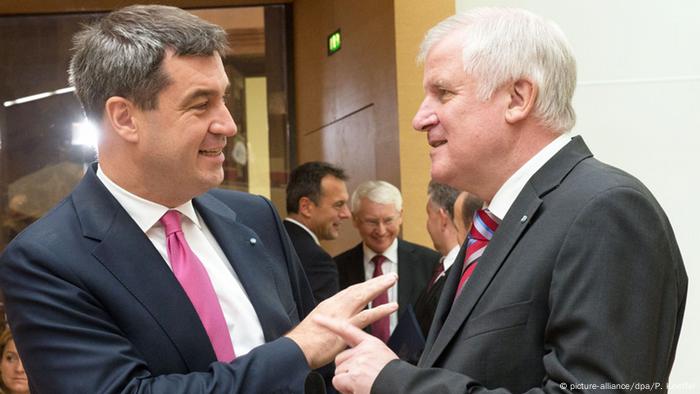 Söder is the rising star in what used to be Seehofer's CSU
Negative poll numbers
Bavaria holds a regional election in October, and Söder is the CSU's lead candidate. For this first time, this vote is his to win — or lose. Winning, in this case, is defined as the CSU maintaining its absolute majority in Germany's largest federal state.
An accomplished and, by all accounts, fiercely competitive tennis player with a treacherous backhand slice, Söder is used to maneuvering opponents out of position, and his potshots at Merkel are clearly part of an election strategy. What's unclear is whether that tactic will win him any points.
Read more: Germany divided: 5 snapshots of discontent in a wealthy country
If public opinion surveys are anything to go by, it won't. According to polling service Forsa, more Bavarians are satisfied with Merkel's work (43 percent) than Söder's (38 percent). Even among CSU supporters, the chancellor's approval rating (61 percent) is better than Söder's (56 percent).
The one group with which Söder does markedly better are AfD supporters. Some 67 percent of the far-right populists say they are satisfied with Söder, while 99 percent are critical of Merkel.
But Söder's enhanced appeal on the far right hasn't moved the CSU's poll numbers in a positive direction. According to Forsa, only 40 percent of respondents plan to vote conservative in October. That's 7.7 percent less than voted for the CSU in the previous Bavarian election four years ago — and far from the level Söder needs to defend his party's absolute majority and keep his own political career on track.