Cottbus: 'Our government doesn't act — it reacts'
You wouldn't guess from Cottbus' restored historic city center that at the start of this year this city of 100,000 declared a moratorium on migrants because residents felt overwhelmed. If anything, it feels somewhat underpopulated and empty.
But head to the outlying district of Sachsendorf, and you'll see evidence of the fact that the proportion of foreigners increased from 2.2 to 8.5 percent in Cottbus in only two years. Women wearing headscarves and young men speaking Arabic are no rarity in this lower-class neighborhood with its Communist-era pre-fab apartment blocks, small shopping centers and otherwise very European-looking populace.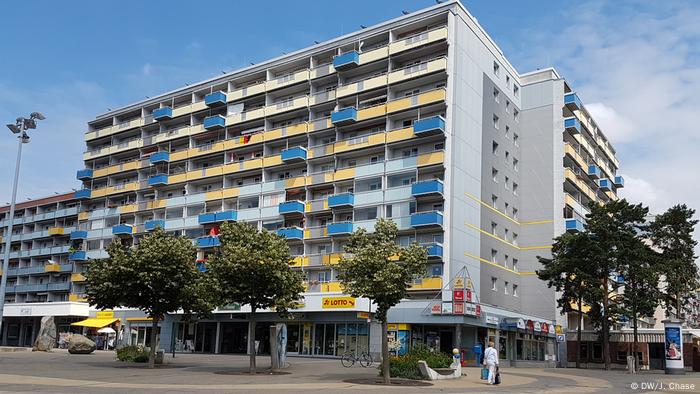 The big apartment blocks of Sachsendorf are typical of outlying districts in many eastern German cities
There have been several prominent instances of migrant violence. The far-right populist Alternative for Germany (AfD) party holds up places like Sachsendorf as typical of a Germany being "flooded" by dangerous foreigners. That's the advertised theme of a podium discussion the AfD is hosting back in the city center. The 200-odd people in the audience are there to vent their anger at what they repeatedly call a "loss of control" over politics and society. And the person they vent it at is Chancellor Angela Merkel.
"The biggest problem is the government," Andreas Kalbitz, the AfD chairman in the eastern state of Brandenburg, says. "It doesn't act, it reacts. And the result is a colorful bouquet of political problems. The most important issues in our country, from the refugee question to social problems, don't get addressed."
Read more: Cottbus grapples with violence between refugees and residents
For Kalbitz and his supporters the way forward is clear: Get rid of Merkel, deport nearly all of the people they say entered Germany illegally under the pretext of asylum and empower the people over the politicians. But which people? Parallel to the AfD event, another crowd of roughly 200 people gather for an event entitled "Integration by involving refugees in everyday life."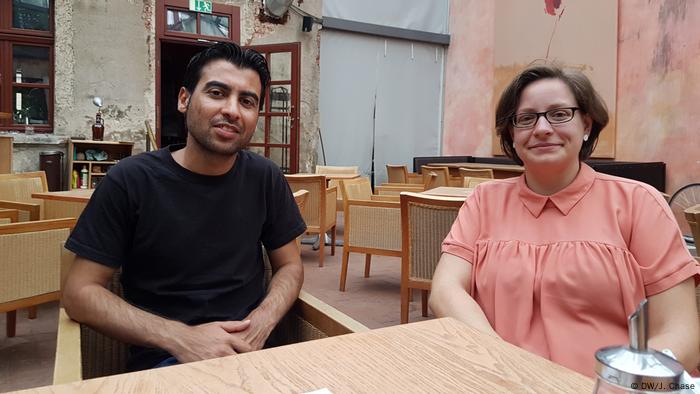 Hassan from Syria volunteers his time to help other refugees
In the audience is Juliana Meyer. She coordinates scores of volunteers from Cottbus who help migrants fit in. Meyer scoffs at the city's moratorium on refugees, saying that it has prevented "only around 30" people from moving there.
Many migrants also donate their time as a way of repaying German society for its generosity, she adds. As living proof, she's brought Hassan, a Syrian refugee who's well on his way toward learning German and who helps his fellow asylum-seekers by translating and filling out necessary state forms.
"The biggest problem is that people don't talk to one another enough and don't debate things properly with objective arguments and issues we all care about," Meyer tells DW. But when asked if she'd sit down with the AfD, she says no. For her the party, whose leaders flirt with taboo racist language, is too closely associated with "misanthropic and xenophobic" positions to be a legitimate discussion partner.
Both the social worker and the AfD politician agree that Germany is deeply divided. Perhaps more surprisingly, they both speak of social divisions, like disparities in wealth and unequal educational opportunities — and not only of the native-migrant distinction. But the chances of them exchanging views, to say nothing of reaching any common middle ground, are zero.
"It's a shame," says Hassan, when asked what he thinks about Germany's social divisions, although he too believes the far-right populists are racists.
Author: Jefferson Chase
The presence of so many foreigners represents a challenge to a small city like Cottbus, but what about Germany's cosmopolitan capital Berlin? To find out we went, not to a techno club, but to that most quintessentially German of locations: an allotment garden.