A group of around 600 demonstrators in the German city of Cottbus calling for acceptance and open-mindedness were upstaged and outnumbered by a far larger crowd of anti-migrant protesters on Saturday.
At least 2,000 right-leaning protesters rallied under the banner of the right-wing organization "Zukunft Heimat" (Future Homeland) — a group that claims to have successfully grown in numbers in the eastern German city following a string of attack involving refugees since the beginning of the year.
Read more: German city of Cottbus grapples with violence between locals and refugees
Read more: HRW: France leads fight against populism, Germany, US get mixed reviews
Anti-migrant demonstrators were seen holding banners reading "Islamization is like a cancerous ulcer and is the greatest danger to mankind" and "We call out Islam."
Another sign that read "Merkel must go" referred to German Chancellor Angela Merkel's decision to allow almost one million refugees to settle in Germany during the 2015 migrant crisis. The number of new arrivals has since dropped dramatically.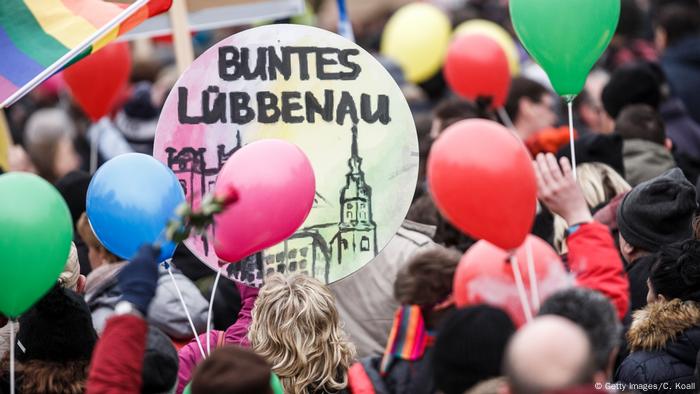 The day began with hundreds of supportive locals marching through Cottbus under the motto 'Live Without Hate'
This was the second Zukunft Heimat march in as many weeks. According to local authorities, Saturday's march saw markedly more than the 1,000 to 2,000 people estimated to have taken part in the rally in mid-January. Among the crowds were high numbers of pensioners, young men and women and several right-wing extremists, police said.
Police reported no violent incidents during any of the rallies, but said that six anti-migrant protesters were reprimanded for disorderly conduct. One man was detained for repeatedly flashing the Hitler salute, a gesture that is illegal in Germany.
On Thursday, during the run-up to the march, Cottbus police arrested six members of the far-right community for handing out bottles filled with tear gas and controversial flyers bearing the logo of the extreme-right National Democratic Party (NPD).
Cottbus grapples with violence
Cottbus has attracted unwelcome headlines since the turn of the year after a series of violent attacks between locals and refugees.
Read more: Study: Only better integration will reduce migrant crime rate
On New Year's Eve, a group of locals attacked a migrant shelter. Later in January, a young Syrian refugee was detained after he attacked a married couple in front of a shopping mall, while an 18-year-old woman was taken into police custody after an altercation with a Syrian man at a party where she allegedly shouted "Foreigners out!"
The recent wave of violence prompted Brandenburg's Interior Minister Karl-Heinz Schröter in mid-January to postpone the intake of refugees to Cottbus until further notice. Schröter said the measure was necessary to ease tensions in the city. "Otherwise the climate will only get worse," he said.
dm/ng (AFP, dpa)