Towering Christmas tress, winter-themed light shows, even flying Santas: These are some of the sights to be taken in the roughly 2,500 Christmas markets scattered across Germany. Last year, the attractions drew some 85 million visitors.
Many markets will open this coming weekend, others will wait until the Advent season starts on December 2. However, regardless of opening date, the larger markets are dealing with a tough topic: visitor security.
Last year on December 19, the Tunesian-born Islamist Anis Amri drove a truck into the crowds at the Breitscheidplatz Christmas Market in Berlin. Twelve people died and scores more were injured. Police are being especially vigilant in the weeks leading up to Christmas.
Just this Tuesday, six suspected members of the so-called "Islamic State" terrorist group were arrested in multiple German cities on suspicion of planning terror attacks. Local media reported that the men may have been targeting the Essen Christmas market, though authorities did not confirm this.
The Nuremberg Christmas market feels safe
Germany's most famous Christmas market in Nuremberg will open in two weeks time. Its gingerbread, spiced mulled wine and baked goods draw visitors, as do its pop-up stands where young designers can sell their crafts.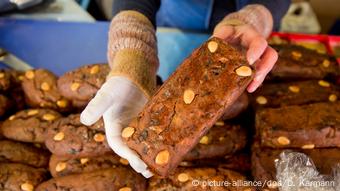 A vendor shows off a dessert bread with dried fruit at the Nuremberg Christmas market
Nurembergers are already excited, says Michael Fraas, head of the city's economic department, which is responsible for the market. He says the security plans have been in place for a long time. "When the market is over, we immediately begin planning next year's. Then we all discuss security," he told DW.
Similar to other Christmas markets, police cars and movable concrete street barriers will surround the Nuremberg market's entrance. And an increased number of police officers will keep a watchful eye in the narrow alleys between the market's stands.
Fraas does not believe that these measures will dampen the market's festive, cozy atmosphere that brings people to its mulled wine stands. "In the last year, people have told me that they feel safe when the police are there," the city official says. "Police, too, have told me that they have been approached by people who have said, 'It's good that you're here.'"
A Christmas market, not a fortress
The vendors and organizers of the Christmas market understand the security measures put in place by police. However, in an interview with German news agency KNA, President of the German Association of Showmen (Deutscher Schaustellerbund) Albert Ritter pleaded for the markets not to lose their open character.
"In the future, they must still stand for openness, encounter and enthusiastic joy, as well as for our manner of celebrating together and living in freedom," he said, adding that they must not be made into fortresses through fences and barriers.
"People are used to it," says Yvonne Coulin, CEO of the Nuremberg's tourist and marketing agency. "When you go to another large event, it also has visible heightened security measures in place."
At least in Nuremberg there will be some "Christmas-y" security barriers, such as particular large Christmas trees in large, heavy planters. Elsewhere the concrete barriers blocking access points will be decked out in holiday decorations.
Berlin has put giant Christmas trees in place alongside concrete barriers
Many American visitors — despite a travel warning
Most of Nuremberg's visitors come from the United States. Due to the multiple terrorist attacks in Europe over the past year, the US has issued a travel warning for its citizens heading across the Atlantic. The warning mentioned the attack at Berlin's Christmas market.
Coulin knows this deal. The US had also issued a similar warning in 2016 and this past summer. "It is not specific to the Christmas markets," the tourism head says. "Despite last's year attack, we had an increase of 7.8 percent in December 2016 alone — that's 300,000 visitors."
The booking situation right now looks good, she adds. Faas confirms her opinion, pointing out that the number of guests from the US has gone up in the last months.
"The effect of terror on tourism was a topic at this year's international tourism convention in Berlin," Coulin says. "People are, of course, directly affected, but there has been no trend towards holding back in terms of long term consequences. Bookings from the US for Germany were extremely good this year."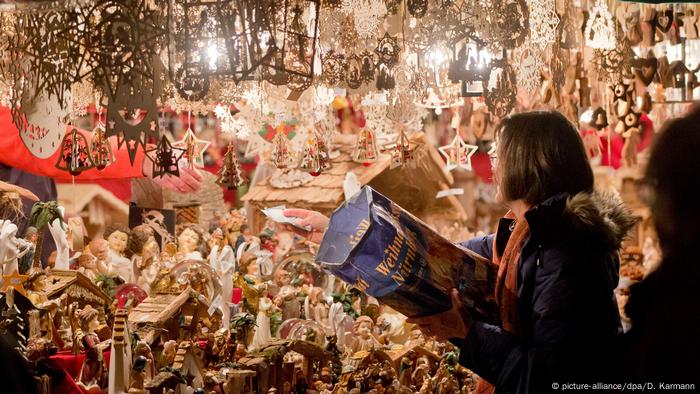 Many visitors come from the US to enjoy the traditional German crafts and holiday decorations
No such thing as absolute security
Faas believes Nurembergers themselves have a "now-or-never attitude." After the Berlin attack, they continued to come to the market, and they will be here again this year, he states. Faas has not let himself be thrown by the most recent round of arrests either.
"It doesn't bother me. We are doing everything we can here for security," he says, before adding, "There can never be absolute security. But the arrests showed that the police are doing a good job."
Fraas is particular looking forward to Christmas Eve. This year, it falls on a Sunday, and all the shops will be closed. "It is so quiet in the city, but the Christmas market is open until 2 p.m., so all the Nurembergers come and create a really special Christmas atmosphere."