Physical violence against teachers occurred at around a quarter of Germany's schools in the last five years, according to a new study by the Forsa polling institute.
The study, commissioned by VBE, one of Germany's largest teachers union, also found that teachers at half of schools had been verbally threatened or insulted and that teachers at around one-in-five schools had been the victims of cyberbullying.
"The results are as clear as they are shocking," VBE chief Udo Beckman said. "This ... once again underlines how relevant this topic [of school violence] is."
Read more: Germany: Elementary school teachers put out call for help over 'violent' students
Physical violence widespread in primary schools
In the study, Forsa asked administrators at 1,200 schools across Germany whether violence against teachers had taken place and about the support schools gave to victims.
The results showed stark variance between different types of schools.
Teachers at nearly one-in-three primary schools had been physically attacked since 2012. At secondary schools, the rate was much lower. Teachers at 12 percent of nonselective or comprehensive secondary schools had been attacked, while only 4 percent of selective-only secondary schools saw teachers targeted with violence.
Read more: School psychologist calls for increased student counseling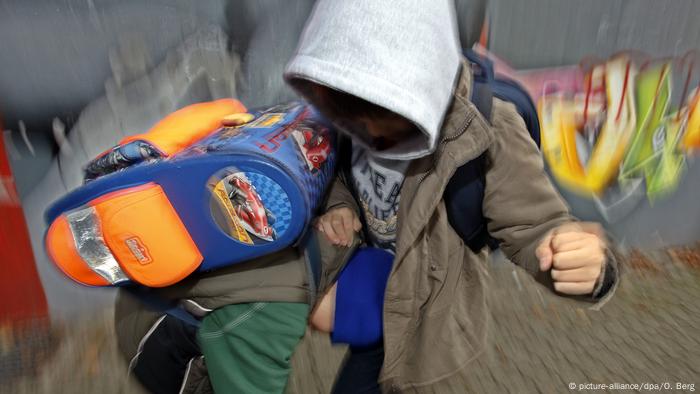 School administrators said uncooperative students made it difficult to help teachers
Parents and kids at fault
Ten percent of school administrators also said they could not adequately support teachers who had been victims of violence. More than half cited uncooperative students and parents as reasons for the inadequate support.
Although the study did not examine what caused students to attack teachers, Beckman suggested parents were to blame.
"When parents use abusive language or physical violence to get what they want, it isn't surprising," he said.
The VBE chief, nevertheless, dismissed the observation voiced by some commentators that schoolchildren with immigrant parents were more prone to violence. "I can't confirm that," he said, adding that the violence against teachers was a widespread problem.
Read more: Police investigate email threats to several German schools
Not 'isolated cases'
Around a third of administrators said they thought state officials did not take violence against teachers seriously enough.
Beckman called that finding "disgraceful" and accused state governments of spreading the "myth" that school violence was not a widespread problem.
To address the issue, he said the government should start collecting statistics on rates of violence in schools and invest far more money into supporting teachers who have experienced violence.
Read more: Study shows German students frequently exposed to sexualized violence