"We do not see any big danger for the realization of this project," the Bulgarian foreign minister was quoted by Reuters as saying on Thursday (03.04.2014), "but I have to mention it at this stage." Kristian Vigenin was being asked about the future of the 'South Stream' project, the 2,400 km (1,490 mile) pipeline from Russia via the Black Sea to Europe, which avoids Ukraine, and which has lately been called into question.
The European Commissioner for Energy Günther Oettinger said previously that discussions with Russia on the project were currently suspended. But Vigenin insisted that technical studies had not yet stopped. On the other hand, "of course in a time when political relations become more complicated this may affect the speed with which the solutions are to be found," Vigenin added.
Bulgaria would be a major beneficiary of the South Stream pipeline, which is due to pump up to 15 percent of Europe's annual gas demand to the EU by 2018.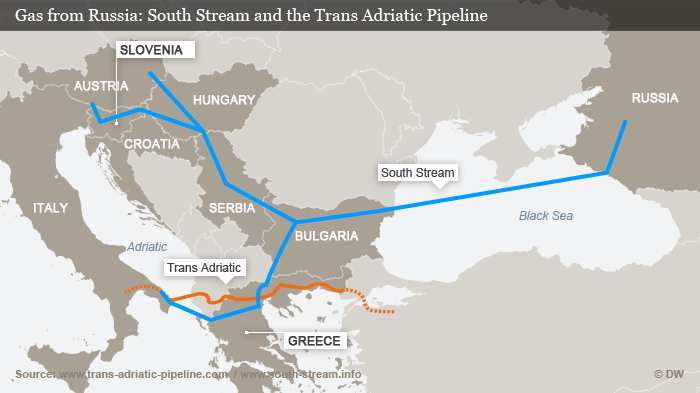 The EU has suspended talks with Russia about the South Stream pipeline
40 percent of gas from Russia
Bulgaria, Finland, and Slovakia are almost 100 percent dependent on Russian gas. But reliance is high in the EU overall. The EU currently receives roughly 40 percent of its gas from Russia, as well as 20 percent of its oil. Even France, Italy, and Germany also import between 20 and 40 percent of their gas from Russia.
The South Stream pipeline was supposed to prevent EU member states from feeling the consequences in the case of gas wars between Russia and the transit country Ukraine. In winter 2009, Russia's Gazprom stopped the flow to its neighboring country, taking a heavy toll on, amongst others, Bulgaria.
Once completed, South Stream would cement Moscow's position as the EU's dominant gas supplier, however. The EU had started planning its own 'Nabucco' pipeline, which would have transported gas from Central Asia to the EU, avoiding Russia. But the project is considered to be a failure. Now talks about South Stream have also stopped, and the Crimea crisis has prompted the EU to rethink its reliance on Russian energy altogether.
Plans on the table by June
At a high-level meeting in Brussels in late March, European leaders decided to look into ways of lowering their imports of Russian gas and oil over the next few years. The European Commission will present its proposals before the next summit in June. Bulgaria has already started looking for alternatives, such as buying liquefied natural gas (LNG) from Qatar or Israel.
However, European officials have their eyes mainly set on the US, which will sell LNG on the global energy market from 2015 onwards. But experts estimate that American gas would not be shipped to Europe for at least the next four to five years. At a visit in Brussels at the end of March, President Obama reiterated that Europe had to open up new ways for its energy policy to avoid dependency on others, saying that US gas was a viable alternative.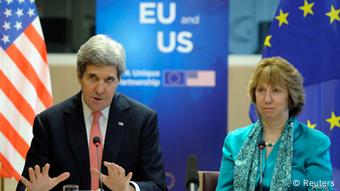 The US could export gas to the EU from 2015 onwards
His Secretary of State John Kerry discussed further details with his European counterparts at an EU-US energy summit this week. Kerry said the US and Europe were taking important steps to stop individual countries from holding others hostage over energy: "No nation should use energy to stymie a people's aspirations," he said. "It should not be used as a weapon."
US gas only partial solution
But Thomas Renard from Egmont, the Royal Institute for International Relations in Brussels, said gas imports from the US should not be overestimated as an alternative to Russian gas. "It's only a partial solution," he told DW, "because that liquefied gas will arrive at European sea ports. Then it still has to be supplied to the most vulnerable countries to Russian gas supplies. Many of them are landlocked. It's not that easy to transport gas there."
In addition, the American gas on offer is at least partly going to be a product of fracking, a method considered dangerous and controversial by many in Europe, with some citizens' initiatives firmly opposing it in Britain.
The EU's High Representative for Foreign Affairs Catherine Ashton told reporters at the EU-US energy meeting that reducing dependency on Russian energy was merely one pillar of a comprehensive new energy strategy in the making. At the summit in March she said, "EU leaders made clear that completing the internal energy market by 2014 and developing the interconnections to put an end to any isolation of member states from the networks by 2015 remains a priority."
There is widespread agreement that more must be done to ensure that countries in the EU can help each other out in the case of energy shortages. Poland's Prime Minister Donald Tusk laid out his vision for an energy union in an interview quoted by news broadcaster euractiv. "Taking into account the danger of potential gas crises, we should construct more effective mechanisms for 'gas solidarity' in the event of a crisis in gas deliveries," he said.
Tusk proposed that the EU build an efficient network, including pipelines, and reiterated his plans to invest more in extracting shale gas and coal. But apart from Britain, there's little - if any - political support for shale gas extraction in other EU countries. The practice is banned in France and regulated out of existence in Austria, Germany, and the Netherlands. And while Britain is relying on new nuclear power plants to help reduce the country's CO2 emissions, the German government decided to phase out nuclear power after the Fukushima accident in 2011.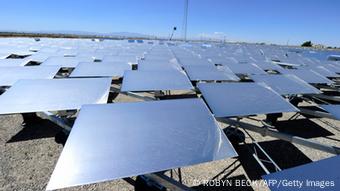 The EU does not have binding renewable energy targets
Thomas Becker of the European Wind Energy Association said now would be the time for the EU to re-boost investment in renewable energy. "It's right in front of us. The gold is lying there in front of us. All you have to do is bend down and pick it up." Becker told DW.
Renewables: EU's 'Silicon Valley'?
But Britain, along with the Czech Republic, was strongly opposed to binding renewable energy targets, which is why the EU Commission's green energy targets only made CO2 emissions binding - despite the fact that its own impact assessment showed that binding renewable and energy efficiency targets would also have probably led to the creation of roughly half a billion much-needed jobs across the EU.
"There is no Silicon Valley in Europe," said Becker. "But renewable technology is there. But politicians look for short-term solutions. It's short-sighted and non-visionary."
Renard also warned against cutting energy dependence of Russia too hastily. He argued that decisionmakers had to remember there was also a positive side to having close energy ties with Russia: "If it wasn't for energy one could wonder whether the relation with Moscow would be as stable as it is now," he said, arguing that mutual dependency required regular contact. "If it wasn't for all this energy dependence and all the dialogue, it could have a destabilizing effect on the whole of Europe."