On January 20, 2017, Donald Trump will become the US president. Even before his inauguration, the Republican politician has caused major irritations in Asia. By having a telephonic conversation with the Taiwanese president earlier this month, Trump sent an indirect message to Beijing that the US might review its decades-long policy of respecting the 'One China' policy. Under the doctine, the US recognizes that there is only one China, including Taiwan, and the government in Beijing is its true representative.
Trump is also likely to take a different approach toward the Iranian nuclear deal. During his election campaign, he was extremely critical of the world powers' nuclear agreement with Tehran. Although, the president-elect has not mentioned the issue in first 100-day plan, decision makers in Iran are worried that Trump could revoke the deal sooner or later.
In 2017, Iran's hard-line groups can ratchet up their anti-US stance, which would mean that President Barack Obama's rapprochement policy toward Tehran could be in jeopardy.
It is unclear whether Trump would also re-examine his country's relations with traditional Asia-Pacific allies like South Korea and Japan. What will be the US strategy regarding the South China Sea dispute? As Trump has already taken an aggressive stance towards China, analysts expect Washington to continue to support its allies to counter Beijing's growing power in the region.
Politics and agitation
There are no signs that North Korea would abandon its confrontational policy and belligerence on the Korean peninsula in 2017. More nuclear and missile tests by Pyongyang's communist rulers cannot be ruled out.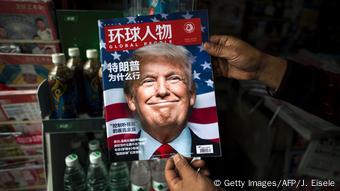 Even before his inauguration, Trump has caused major irritations in Asia
While the North Korean situation is quite predictable, the same cannot be said about its southern neighbor. Demonstrations continue in the South Korean capital Seoul for the eighth straight week as opponents of President Park Geun-Hye call for the leader to step down following an impeachment decision earlier this month. It is expected that the calls for Park's resignation will only intensify in 2017 and the country might hold early elections.
In Hong Kong, disagreements over the election procedures and China's influence on the former British colony have repeatedly triggered pro-democracy demonstrations. Anti-China activists demand a direct ballot and reject Beijing's insistence on pre-selecting candidates for the Chief Executive post.
In China, the 19th congress of the Communist Party will select the new politburo. There is plenty of speculation about who will rule the country after the end of Xi Jinping's term but the party's congress in the fall of 2017 is likely to determine the future political and economic course of the country.
Economic outlook
The Communist Party of China's congress will be closely monitored in other Asian countries as Beijing's influence in the region has been on the rise in the recent years. Pakistan, for example, is looking forward to the implementation of the multi-billion dollar China Pakistan Economic Corridor (CPEC) project. With the project, Beijing aims to expand its influence in Pakistan and across Central and South Asia in order to counter US and Indian influence. CPEC also includes plans to create road, rail and oil pipeline links to improve connectivity between China and the Middle East.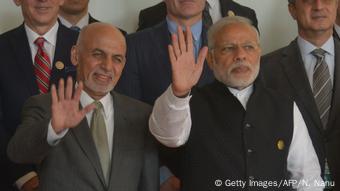 Afghanistan and India are skeptical of Pakistan
Indian Prime Minister Narendra Modi, who is trying to position his country as a major Asian power, will most likely to watch this Sino-Pakistani cooperation very closely. At the same time, India will continue to struggle with its monetary policy and take its fight against corruption into 2017. Modi caused a major stir in India with the demonetization of 500 and 1000 rupee bank notes in November. The premier has vowed to take further measures next year to end corruption in India.
Refugees and security
Afghanistan is struggling to deal with the hundreds of thousands of migrants returning from the neighboring countries. There are thousands of internally displaced persons in Afghanistan and a large number of Afghans are expected to return from Pakistan next year.
Germany is also in the process of repatriating 12,000 refugees to Afghanistan. How the war-torn country with limited financial resources will deal with the situation remains unclear.
The security situation in Afghanistan hasn't seen any improvement. Taliban militants control, or have influence on, more than half of the country. At the same time, to make matters worse, extremist organizations like "Islamic State" (IS) have also increased their activities in Afghanistan.
Islamist extremism is also on the rise in Pakistan, Bangladesh, Malaysia and Indonesia. In the fall of 2016, two new terror groups emerged in Bangladesh, but the South Asian country's authorities continue to deny their existence.