South Korean protestors on Saturday marched for the ninth straight weekend demanding President Park Geun-hye be immediately removed from office following her impeachment in a widening political scandal.
A massive crowd of up to a half a million people, some wearing Christmas-themed outfits, gathered near the presidential palace, Prime Minister Hwang Kyo-ahn's office and the Constitutional Court. The demonstrations have become the largest ever protest movement in the country's history.
The opposition controlled parliament on December 9 impeached Park in a corruption scandal in which she allegedly colluded with longtime friend Choi Soon-sil to extort money and favors from large conglomerates and manipulate the government. The two women are also under investigation for soliciting "donations" to two foundations.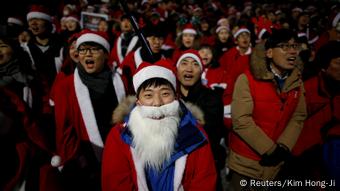 Many protestors hit the streets dress up as Santa Claus.
The Constitutional Court has six months to make a ruling on the impeachment, during which time the prime minister is running the government. Park's powers have been temporarily suspended but she has vowed to remain in office pending the top court's ruling.
The fresh protests come as special prosecutors on Saturday summoned Park's imprisoned friend for questioning. Prosecutors said Choi would be "broadly" questioned relating to the indictment and new allegations.
Lee Kyu Chul, an official from the investigation team led by special prosecutor Park Young-soo, said Choi may be questioned several times in the coming weeks and that the president would also be questioned in the future.
"We can investigate (the president) depending on how things develop and we are preparing for it in our own way," Lee told reporters.
Sports minister questioned
Earlier on Saturday, prosecutors summoned former Vice Sports Minister Kim Chong for questioning. Kim is suspected of helping Choi extract money and favors from the country's largest business conglomerate Samsung.
He is also suspected of giving business deals to sports organizations controlled by Choi and helping secure financial backing of a sports group run by Choi's niece, who has also been arrested.
Technology giant Samsung is being investigated on suspicion it sponsored Choi in order to gain government approval for a merger between two affiliates last year. That deal allegedly cemented a father-to-son transfer of power in the group's leadership.
On Wednesday, investigators raided the offices of South Korea's National Pension Service, the third largest in the world. The pension fund supported the merger between the two Samsung affiliates despite incurring losses estimated at hundreds of millions of euros.
Samsung is one of the main companies that "donated" 64 million euros ($65 million) to two foundations controlled by Choi, which she allegedly used to peddle influence and increase her wealth.
cw/jm (AP, AFP)