US Senator Lindsey Graham relayed a clear message to Moscow during the Munich Security Conference (MSC) this weekend.
"2017 is going to be a year of kicking Russia in the ass in Congress," Graham told leaders from around the world on Sunday.
The senior Republican senator from South Carolina was responding to allegations that Russian hackers intervened in the US presidential election to help Donald Trump win.
His comments came amid growing unease among European allies over the Trump administration's questionable relationship with Russia, its wavering commitment to NATO and its ambiguous stance toward policies that have served as the bedrock for the trans-Atlantic relationship for some 70 years. His words also come a day after Chancellor Angela Merkel stressed the importance of the intergovernmental military alliance.
Promising to investigate Russian meddling just as several European countries gear up for their own elections this year, Graham urged Trump to take a tougher stance on Moscow and vowed to introduce a bipartisan motion to slap the Russian government with more sanctions.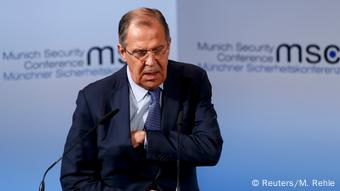 Russian Foreign Minister Sergey Lavrov also took the opportunity to address the conflict in Ukraine
"My goal is to put it on Trump's desk and I hope he'll embrace the idea that as the leader of the free world he should be working with us to punish Russia," Graham said.
Russian Foreign Minister Sergey Lavrov denied any wrongdoing on Saturday. "I have seen no facts," he said. "There were just some accusations that we tried to hack some Democratic Party website."
Iran also on notice
The US official also addressed concerns over Iran, suggesting that Congress was considering new sanctions against Tehran over recent actions. Tensions have run high between Iran and the US in recent weeks after Tehran performed a ballistic missile test earlier in February. Following the launch, the Trump administration imposed fresh sanctions on individuals affiliated with the regime.
"I think it is now time for the Congress to take Iran on directly in terms of what they've done outside the nuclear program," Graham said.
"Iran is a bad actor in the greatest sense of the word when it comes to the region. To Iran, I say, if you want us to treat you differently, then stop building missiles, test-firing them in defiance of UN resolutions and writing 'Death to Israel' on the missile," he added.
Senator Christopher Murphy, a Democrat, said there was nothing stopping Washington from imposing such sanctions on Tehran, as the nuclear deal was agreed upon with the understanding that such actions could be taken outside the agreement.
Questions over US Syria commitment
Meanwhile, the UN's top envoy in Syria, Staffan de Mistura, called into question Trump's commitment to solving the Syrian conflict.
"Where is the US in all this? I can't tell you because I don't know," he said in Munich.
His comments come several days before world powers are set to convene in Geneva for another round of UN-backed peace negotiations. De Mistura said the current ceasefire had a better chance of succeeding since both Turkey and Russia "have assets on the ground."
blc/tj (AP, Reuters, dpa)