French border guards have abused, detained and forcibly returned minors and other vulnerable migrants to Italy in violation of EU and French laws, the charity Oxfam said in a report on Friday.
The report, "Nowhere but Out," describes the dire situation of about 16,500 refugees and migrants — a quarter of them unaccompanied children — trapped in a no man's land near the Italian coastal border town of Ventimiglia and the French town of Menton, near Nice.
The report comes amid heightened tensions between Italy and France after French President Emmanuel Macron accused Rome of "cynicism" and "irresponsible" behavior for its rejection of the Aquarius NGO ship carrying 629 migrants rescued from the Mediterranean.
Read more: France's Emmanuel Macron blasts Italy for 'cynicism' over migrant ship
The Oxfam report cited the accounts of children crossing into France being "physically and verbally abused, and detained overnight in cells without food, water or blankets and with no access to an official guardian."
It also accused French border guards of cutting the soles of shoes of child migrants and taking their phone SIM cards. In one case, a "very young" Eritrean girl was forced to walk back to Italy on an unpaved road carrying her 40-day-old baby.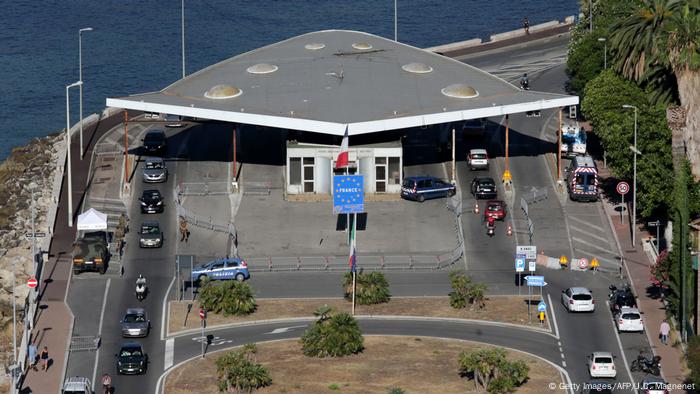 The Italian-French border near Ventimiglia
Tighter border controls
France tightened border controls in 2015. Under the EU's Dublin regulations, adult migrants must claim asylum in the European country of their arrival. However,the rules are different for unaccompanied minors, who may request asylum protection in any EU member state where they have family or, in the absence of family, may choose any member state.
Read more: Migrants put mafia mobsters behind bars in Palermo
The Oxfam report said French police regularly alter the paperwork of minors to make them adults and send them back to Italy, or make it appear that the minors want to be sent back to Italy. Even if a minor does want to return to Italy, laws require a 24-hour delay and the appointment of a guardian.
"These provisions and guarantees are time and again violated, as French officers put children immediately onto a regional train to Ventimiglia," the report said.
Ventimiglia, Italian border town
Meanwhile, hundreds of migrants and refugees in Ventimiglia live either in an official camp that is overstretched or under an overpass without proper sanitation, water, shelter or heating.
"In Ventimiglia, there are no arrangements to take care of the returned children. Once off the train, they are left to fend for themselves," the report said.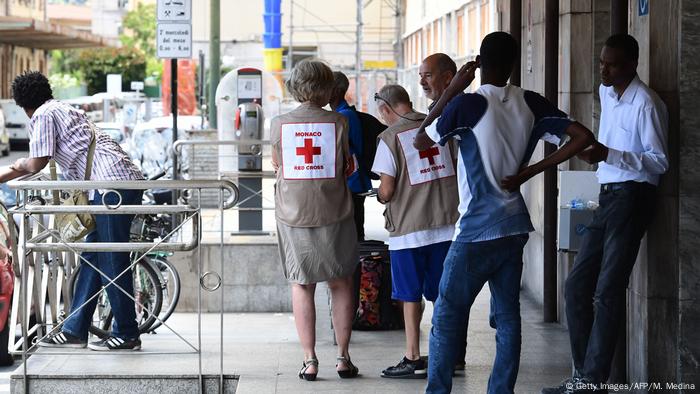 Red Cross workers at the Ventimiglia train station
Oxfam recommended Italy "significantly improve" asylum procedures and make them understandable to migrants.
Italy has taken in nearly 700,000 migrants and refugees since 2013, mostly sub-Saharan Africans who crossed the Mediterranean on boats from war-torn Libya. An estimated 500,000 are unregistered migrants. In 2017, 17,337 children arrived in Italy, of which 15,779 were unaccompanied.
Migrants keep moving
Many West African migrants who speak French are keen to make it to France, where they speak the language and have family members. Other migrants and refugees seek to make it to Britain, Sweden and Germany where they hope to join relatives or friends.
Read more: Austria's Sebastian Kurz wants a migration 'axis of the willing' with Germany, Italy
Italy has repeatedly accused EU member states of not taking in their fair share of migrants under an EU migration deal to distribute the new arrivals.
A pan-European solution to migration
Matteo Salvini, Italy's new anti-immigration interior minister, this week accused France of only taking in 640 of the 9,816 migrants it had pledged to take from Italy. He accused France of sending back to Italy 10,249 migrants between January and May.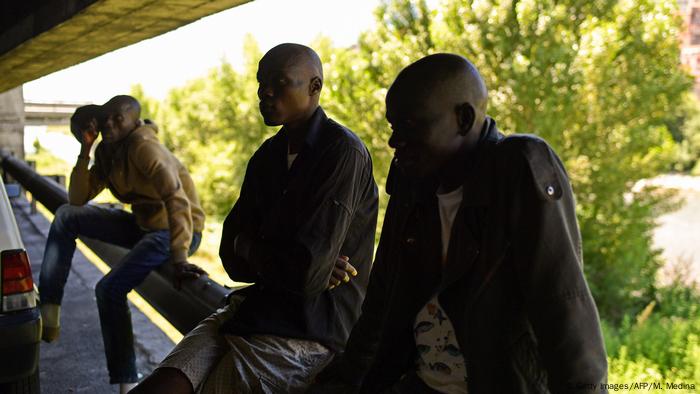 People sheltering under a bridge near Ventimiglia
Salvini has vowed to stop foreign boats carrying migrants from arriving in Italy, a policy that led to the Aquarius being kept at sea, and highlighted Europe's failure to adopt a common migration policy.
European Parliament President Antonio Tajani warned this week the contentious issue of migration is threatening "the survival" of the 28-nation bloc.
An EU summit at the end of June is expected to be dominated by the migration issue, which is also roiling politics in Germany.
cw/jm (AFP, AP)
Each evening at 1830 UTC, DW's editors send out a selection of the day's hard news and quality feature journalism. You can sign up to receive it directly here.