It is the biggest change in the US military since the repeal of "Don't Ask, Don't Tell" in September 2011: Starting January 1, 2018, transgender recruits will officially be allowed to serve on the force.
While this marks a big turn-around for the US military, transgender soldiers have been allowed to serve in the Bundeswehr for years. There was no special law tailored to the issue, but the German military, like all employers, has to adhere to anti-discrimination rules passed in 2006.
"The goal of the law is to eliminate any disadvantaging of people based on their race or ethnic background, gender …or sexual identity," Germany's General Equal Treatment Law reads.
That means that being homosexual or transgender is no reason to be rejected as a Bundeswehr recruit.
"Sexual orientation falls under your right to privacy," a Bundeswehr spokesperson told DW.
Debunking the myth of high health care costs
US President Donald Trump seems to have a different opinion. Trump did not want transgender troops serving in the US military and had tried to delay the final decision on the issue. In a series of tweets, he claimed they would cause "disruption" in their units and that healthcare costs would be too high, since the military would have to pay for gender reassignment surgeries.
Trump's tweets had created a huge backlash from service members and human rights advocates, and economists had doubted the president's claims about healthcare costs.
LGBT representation in the Bundeswehr
The Bundeswehr does not collect numbers of how many troops identify as lesbian, gay, bisexual or transgender (LGBT). It only refers to the percentage of Germany's overall population and calculates it for its roughly 177,000 soldiers and around 86,000 civilian employees.
Around 5 percent of the German population is homosexual, so the Bundeswehr estimates that 5 percent, or 13,000 of its members, are homosexual. According to this method, around 0.5 percent, or 1,300 members, would be transgender.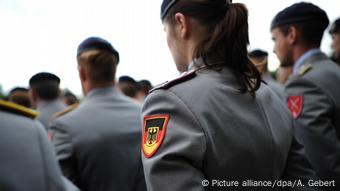 Women weren't allowed to serve in a military capacity until 2001
"I would say the estimate for homosexual members is probably correct," Marcus Otto, chairman of the Association for Homosexual Bundeswehr Members (AHsAB), told DW. "I'm not sure about 1,300 transgender members, but the more accepting the Bundeswehr becomes, the more [transgender] recruits I meet."
AHsAB represents the interests of homo-, bi- and intersexual army members. It fights for equality and aims to decrease discrimination by hosting workshops for Bundeswehr leadership, running a 24-hour telephone helpline and generally providing advice on dealing with sexual identity and orientation.
'A homophobic superior can harm your career'
The association was founded in March 2002 and its members have been hard at work since. That doesn't mean that the Bundeswehr is a perfect example of tolerance today.
"From a legal standpoint, all forms of discrimination and bullying are prohibited," Otto said. "But of course they still exist. Some homosexual and transsexual soldiers are treated like outsiders by their comrades. And a homophobic superior can really harm your career. We've also talked to people who left the Bundeswehr because they couldn't take it anymore, even though they originally wanted to extend their contracts."
Klaus Jetz, director of the German Lesbian and Gay Federation, confirms that it takes time until legal changes are reflected in personal attitudes and acceptance levels.
"The Bundeswehr, like the world of professional soccer, is one of the last bastions of masculinity and homophobia," Jetz told DW. "Things are changing now. It just takes patience."
Homosexuality used to be reason for dismissal
Compared to the earliest days of the Bundeswehr, the situation of LGBT members in the military has already improved significantly. In 1955, when the Bundeswehr was founded, homosexuality was still illegal in Germany. While that changed in 1969, homosexual Bundeswehr members were let go for "health reasons" until the 1980s.
After that, sexual identity was no longer a reason for dismissal, but it was still made clear that homosexuals were not desired in the Bundeswehr.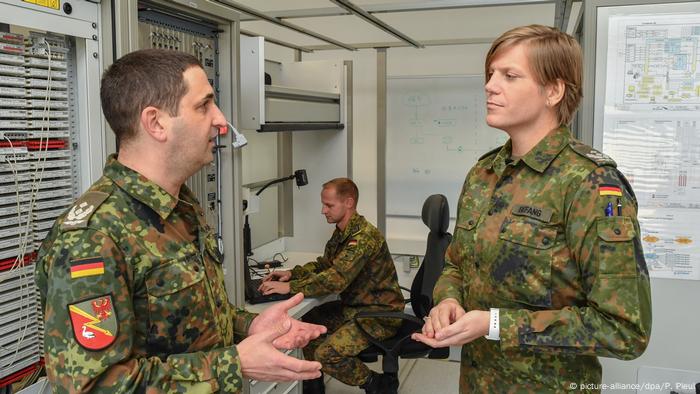 Lieutenant Colonel Anastasia Biefang (right) is the point-person for transgender troops in the Association for Homosexual Bundeswehr Members
Only in 2000 did the German military change its rules. Sexual orientation was no longer deemed a reason to not promote someone to higher positions or to remove them from a trainer or leadership position. That meant sexual orientation was removed from the list of questions potential recruits had to answer as well.
Special sex issue
The Bundeswehr is working hard to make sexuality less of a taboo topic. The annual special edition of its in-house magazine, Y, focuses on "love, lust and partnership" this year. The cover shows a man and a woman making out, with a parrot and a snake drawn on them in bright cartoon style. Inside, stories range from a feature about sexual assault ("No means no"), to a guide about how to rekindle love after a long mission and a portrait of Rafaela, a transwoman whose soldier brother still struggles with her transition.
In the editorial, editor-in-chief Jan Marberg states that "there is no room in the Bundeswehr for discrimination." But AHsAB chairman Otto said he'd welcome it if tolerance toward sexual orientations and identities different from one's own would actually be part of the Bundeswehr curriculum.
He says that at least one three-hour session on the issue should be a mandatory part of each recruit's basic training.
"Right now, the workshops we offer are completely voluntary," Otto said. "But if you're homophobic, you'd never sign up for one in the first place. So that needs to change."