Friday's White House memorandum instructed the Defense Department to reverse a 2016 order under President Barack Obama that allowed transgender men and women to serve openly in the US armed forces.
Although the order was never formally implemented, many transgender army personnel came out in anticipation of the policy, and have now been left in a vulnerable position, according to campaigners for the rights of lesbian, gay, bisexual and transgender people (LGBTQ+).
On Friday, US President Donald Trump directed the military "to return to the long-standing policy and practice on military service by transgender individuals" prior to 2016. He said his predecessor, Barack Obama, had not thought through whether the relaxed policy would "hinder military effectiveness and lethality (or) disrupt unit cohesion."
Read more: Trump reverses Obama directive on transgender bathroom use in schools
US military agrees to cover Chelsea Manning's gender confirmation surgery
No funding for surgery
The order also halts the use of government funds for any new gender-reassignment surgeries for active personnel. Those who have begun the treatment should be unaffected by the change in policy.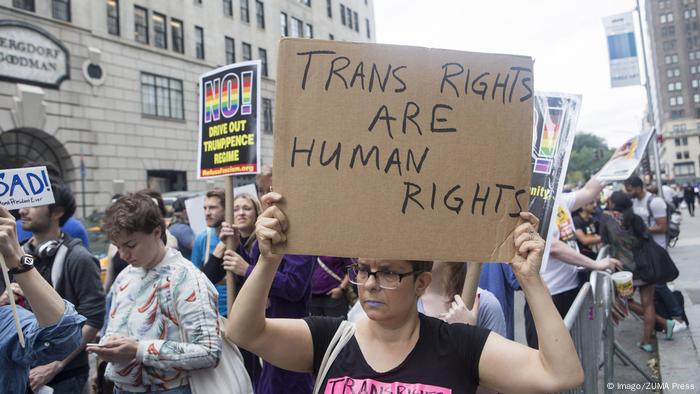 The ban, which Trump announced on Twitter last month, appealed to some in his conservative political base but was condemned by rights groups. His announcement was made with little apparent coordination with the Pentagon, which said the ban would not be implemented until the White House gave more clarity.
Friday's memo requires US Secretary of Defense Jim Mattis to determine in the coming months how to handle the futures of the estimated 1,320 to 15,000 transgender people currently serving in the military.
Read more: Anti-transgender bus sparks protests in Boston
Spanish judge: Anti-transgender bus must stay off roads
The memo called on Mattis to submit a plan to Trump on how to implement the changes by February 21.
Transgender 'purge'
Friday's directive drew similar ire to Trump's original announcement, with one group that campaigns for LGBTQ+ equality in the military describing the ban as "nothing less than a purge."
In a statement, Nancy Pelosi, who leads the Democratic minority in the US House of Representatives, said: "Prejudice, not the national defense, is behind President Trump's cruel decision to kick transgender troops out of the military."
Five transgender soldiers are suing Trump and the Pentagon after last month's tweets, saying they face uncertainty in their futures - including whether they would be fired or lose post-military and retirement benefits.
mm/kl (AFP, AP, dpa, Reuters)