The "Free Speech Bus" is wrapped with orange livery with the slogan "It's Biology: boys are boys ... and always will be. Girls are girls and always will be. You can't change sex. Respect for all."
After being met by protesters in Boston on Thursday, the Catholic group CitizenGO said the bus would make stops this weekend in New Haven, Philadelphia and Baltimore before heading to Washington DC.
The bus drew scores of opponents when it stopped in front of the Massachusetts State House in Boston. Many of them described the bus' message as "hateful" and "discriminatory," before waving signs and chanting "No hate. No fear. Trans people are welcome here."
Gregory Mertz, the US director of CitizenGO, said the group was fighting against laws and policies accommodating transgender people.
"There's an agenda and movement that's saying it's OK for a boy to be a girl and that you can use whichever restroom you want," he said. "We think that's very harmful."
The group said it has nearly 42,000 signatures for its online petition in support of its campaign.
Bus met with contempt
But protesters said the message is overly simplistic.
"It assumes that our identities are the sum of what's between our legs," said Michelle Tat, a transgender woman from Boston. "I'd argue that it's more about our lived experiences and our genders. Biology gives us what we are born with, but it doesn't make us who we are."
The news site "RedStateWatcher" cited another transgender student, Logan Nelson, who said: "I find it really horrifying, especially after all the strides that we've made, that something like this moving vehicle of hate can just come into our city and spread a really toxic message.''
Earlier in the week, CitizenGO blamed protesters in New York for vandalizing their vehicle when it arrived outside the United Nations headquarters.
Spanish origins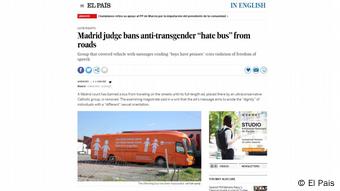 The anti-transgender bus was banned in Madrid
The idea for the bus was borrowed from a similar campaign in Spain, which carried the slogan "Boys have penises, girls have vulvas. Do not be fooled. If you are born a man, you are a man. If you are a woman, you will continue to be one."
That bus was ordered off the streets by Madrid's mayor, a ruling that was later upheld by a court in the Spanish capital.
The original campaign was in response to pro-transgender posters in Spain that depicted four naked children - including a boy with female genitalia and a girl with a male sex organ - holding hands.
Underneath the image was a phrase in Spanish that read: "There are girls with penises and boys with vaginas. It's that simple."
mm/jm (AP, AFP)