A federal judge has ordered the Pentagon to allow openly transgender recruits to join the military beginning in the new year.
US District Judge Colleen Kollar-Kotelly rejected an appeal by President Donald Trump and his administration to delay the January deadline.
The Justice Department asked a federal court to delay the January deadline last week while the legal battle plays out, but the judge denied the motion.
"The court will not stay its preliminary injunction pending defendants' appeal," Kollar-Kotelly said Monday. The ruling a is a blow to Trump, who tweeted back in July that transgender troops should not serve in any capacity in the US military.
His tweets, three in all, sparked outrage, prompting service members and human rights advocates to file lawsuits.
Subsequently, in an August memorandum, Trump gave the military until March 2018 to revert to a policy prohibiting openly transgender individuals from joining the military and authorizing their discharge. The memo also ended the use of government funds for sex-reassignment surgery for active-duty personnel.
Former President Barack Obama initiated the new transgender policy, which ordered the Pentagon to begin accepting openly transgender recruits on July 1 of this year. After Trump's series of three tweets, Defense Secretary Jim Mattis announced the Obama policy would be reviewed and the deadline pushed back to the start of 2018.
Trump administration's ban 'not supported by facts'
The administration's latest appeal sought to have that deadline pushed back further, while the policy review continued. But Kollar-Kotelly rejected that argument, saying plenty of time and thought had already gone into the new policy's creation.
"The directive from the secretary of defense requiring the military to prepare to begin allowing accession of transgender individuals was issued on June 30, 2016 — nearly one-and-a-half years ago," she said.
In an earlier ruling in October, Kollar-Kotelly said the Trump administration's reasons for the ban "do not appear to be supported by any facts," citing a military-commissioned study that debunked fears over military cohesion or health care costs.
Service members who filed a lawsuit against Trump, Mattis and military leaders in August had been serving openly as transgender soldiers in the US Army, Air Force and Coast Guard.
Their suit said Trump's ban discriminated against them based on their sex and transgender status, and that they had relied on the Obama-era policy to reveal they are transgender.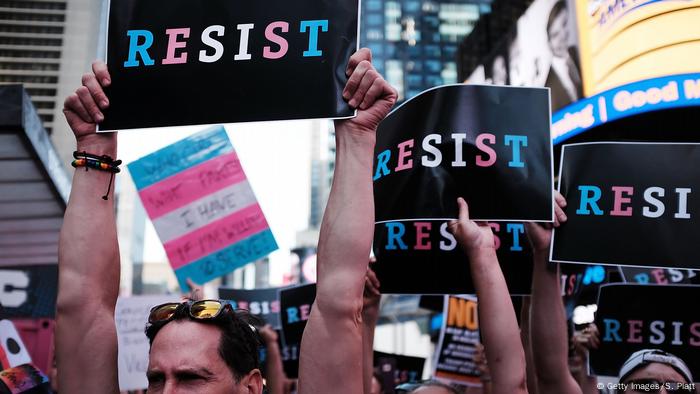 Protesters in New York rallied last summer for the rights of transgender people to serve in the US military
Major David Eastburn, a Pentagon spokesman, said transgender recruits will begin enlisting on January 1 and will continue amid the legal challenges.
Eastburn said the new guidelines allow the Pentagon to disqualify potential recruits with gender dysphoria, a history of medical treatments associated with gender transition and those who underwent reconstructive surgery.
bik/cmk (AP, AFP, Reuters)