Six months after a sexual and hazing scandal rocked the Bundeswehr four dismissed soldiers are challenging the case in court.
Allegations that soldiers at the Pfullendorf military base in the southern state of Baden Württemberg engaged in "sadistic sexual" practices and bizarre hazing rituals sent shockwaves through the defense establishment in January.
Among other allegations, trainers were said to have forced female soldiers to pole dance.
Defense Minister Ursula von der Leyen at the time called the behavior "repulsive and disgusting," and cracked down by transferring the base commander and dismissing five soldiers.
Unanswered questions
But in the intervening months, much remains unclear about what was happening at the base.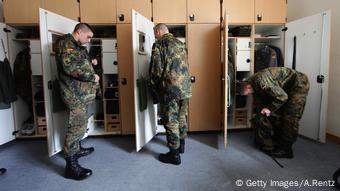 Von der Leyen has been criticized amid reports of declining morale in the German military
Prosecutors have already invalidated some of the accusations, while there remains a lack of evidence for others.
Now four of the dismissed soldiers are suing to get their jobs back.
Test for von der Leyen
Germany's DPA news agency reported that the case may put pressure on von der Leyen, who has been accused of by some in the military of mismanagement and politicization. The criticism has extended beyond the case of Pfullendorf to her handling of right-wing extremism in the Bundeswehr and dipping morale in the force.
Read:German Defense Minister von der Leyen addresses calls to step down
Christian Trull, a former major general, for example, accused the defense minister in the "Stuttgarter Zeitung" newspaper on Wednesday of "exaggeration and alarmism."
If the court rules to reinstate the four soldiers it will validate criticism of the defense minister.
A verdict is expected on Thursday.