The plan that foreshadows the reforms is contained in a report presented to lawmakers by the Bundeswehr's inspector general.
It is in response to widespread misconduct and abuse uncovered earlier this year at an elite special operations center in Pfullendorf, southern Germany.
Trainers allegedly forced recruits to perform medically unnecessary and sexually motivated acts, such as the use of rectal thermometers during instruction, as well as bizarre hazing rituals - including forcing fellow soldiers to remain tied to a chair for hours while hosing them down with water.
General Volker Wieker said leaders at Pfullendorf had failed to stop the "demeaning and tasteless" abuse.
"We will not tolerate violations of internal leadership of the German Bundeswehr. Our efforts are intended to prevent future incidents of this type," Wieker said in his report, seen by Reuters.Military officials and Defense Minister Ursula von der Leyen were quick to condemn the behavior when it became public, promising an in-depth investigation and serious consequences.
On Wednesday, von der Leyen said the ministry would establish a "holistic approach" to tackling the issue of sexual abuse within the Bundeswehr."
General Wieker's report recommends a revamp of systems for reporting problems like violence and discrimination, setting up a database to collate complaints, as well as the need to create a more open "reporting culture."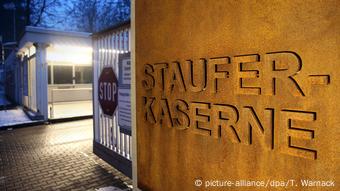 Soldiers at the military training center were allegedly subjected to violent rituals and sexual abuse
The Bundeswehr's problems will come under special investigation by German criminologist Christian Pfeiffer, according to the military report. Pfeiffer will identify potential areas for improvement and develop proposals to educate and train military staff.
However, evidence of reported further incidents aside from in Pfullendorf could not yet be substantiated. The reforms and speical investigation would therefore establish whether "respect and comraderie" can be considered a given in the Bundeswehr, or whether "certain regiments, centers or groupings exist in which a wretched atmosphere has developed and we will have to step in," von der Leyen said.
jr,dm/jm (Reuters, dpa, AFP)