Authorities are investigating a military training center in Pfullendorf, a small town in Southern Germany, for incidents of misconduct and abuse. German website "Spiegel Online" first released reports of abusive behavior at the center on Friday, based on documents from an internal investigation.
According to Spiegel Online, "sexual-sadist practices" and violent rituals were widespread at the Staufer barracks. Trainers allegedly forced recruits to perform medically unnecessary and sexually motivated acts and bizarre initiation rituals were reported to be common practice, including forcing fellow soldiers to remain tied to a chair for hours while hosing them down with water.
Military officials and defense minister Ursula von der Leyen were quick to condemn this behavior and promised an in-depth investigation. The probe will include whether leaders at the training center had actively encouraged or participated in abusive rituals.
Seven soldiers charged, five officers demoted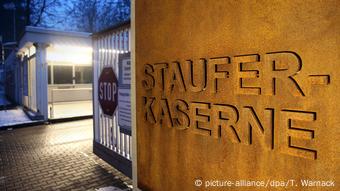 Soldiers at a military training center were allegedly subjected to violent rituals and sexual abuse
So far, German military authorities have filed criminal charges against seven soldiers, according to the federal ministry of defense. The soldiers have been accused of unlawful detention, criminal assault and coercion. Five leading officers at Staufer were demoted in order to "allow for a new start," according to the ministry.
Von der Leyen said that what happened at the training center was particularly shameful considering the many soldiers who treated their comrades respectfully and who worked hard to improve the image of the troops. "What happened in Pfuffendorf is repulsive and despicable," she said.
According to Spiegel Online, there had already been investigations into allegations of misconduct and bullying against female soldiers in Pfullendorf in 2015, but no evidence was found. The current investigation was opened after a female recruit contacted the parliamentary ombudsman for the armed forces, Hans-Peter Bartels, and Defense Minister von der Leyen.
mb/bw (dpa, AFP)