After testifying before a Bundestag commission on Wednesday, Germany's defense ministerVon der Leyen regrets slamming Bundeswehr said she was not aware of calls for her to step down. Ursula von der Leyen also discouraged against broad-brush descriptions of German soldiers as right-wing extremists.
"This demand has not reached my ear," von der Leyen said on Wednesday, referring to growing suggestions that she step down. She also said the "very, very big majority" of soldiers are not engaged in far-right activities.
Read more: Germany promises army reforms after neo-Nazi terror plot
The defense minister's comments follow revelations that soldiers allegedly planned to commit attacks in Germany to frame refugees. The resulting inquiry has led to the discovery of a vast military neo-Nazi network, and army officials have taken to soul-searching as the Bundeswehr comes to terms with its legacy as the successor to Adolf Hitler's Wehrmacht. Von der Leyen has promised reforms to improve make it easier for soldiers to report far-right threats from their peers.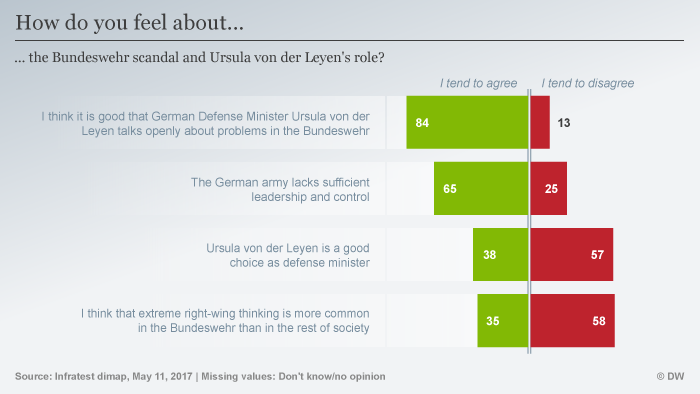 'Atmosphere of terror'?
This month, Bundeswehr Inspector General Volker Wieker, Germany's highest-ranking soldier, ordered barracks searched for Wehrmacht weapons and memorabilia. On Wednesday, the Bundeswehr announced that more Nazi coins and posters had been found. At least one officer has been suspended for expressing far-right sentiments since the investigation was launched.
Plans have also been announced to rechristen barracks named to honor Nazi-era officers. In January, the Defense Ministry decided to stop the distribution of the military's current songbook, noting that some of its hymns had first appeared during the Nazi era.
Read more: What draws right-wing extremists to the military?
Traditionalists have voiced dissatisfaction with these reforms. Members of the far-right Alternative for Germany (AfD) party, for example, have accused von der Leyen of creating an "atmosphere of terror" and censorship in the Bundeswehr.
"Censoring the Bundeswehr's traditional songbook is paranoid," AfD executive Georg Pazderski, a former army officer, told the German news agency dpa earlier this month. Pazderski said "political correctness" would strip the army of its identity. He characterized von der Leyen as the "gravedigger of the Bundeswehr."
More moderate right-leaning politicians have also jumped to the military's defense. Stephan Mayer, of the Christian Social Union, said the military's counterintelligence service (MAD) seemed to have done everything right so far when confronted with the evidence of rogue racists in the ranks. The CSU is the Bavarian partner party of German Chancellor Angela Merkel's Christian Democrats.
"I have seen no dereliction on MAD's part so far," Mayer told the public broadcaster ARD on Wednesday. He said errors had been made by the Bundeswehr and theFederal Office for Migration and Refugees, but that did not constitute grounds to put the agencies under general suspicion.
mkg/rc (Reuters, dpa)