The Syrian government has recognized Abkhazia and South Ossetia, two Georgian breakaway regions backed by Russia, as independent countries.
"A deal has been reached between the Syrian Arab Republic, the Republic of Abkhazia and the Republic of South Ossetia to exchange recognition and set up diplomatic ties at the embassy level," said a Syrian Foreign Ministry official in comments circulated by the state-run SANA news agency on Tuesday.
Read more: Caucasus history almost repeats itself in Crimea
The move prompted the Georgian government to announce its decision to sever official ties with Syria, blaming Russia for orchestrating the diplomatic stunt.
"With this act, the Assad regime declared its support for Russia's military aggression against Georgia, the illegal occupation of Abkhazia and Tskhinvali [South Ossetia] regions and the ethnic cleansing that has been taking place for years," said a statement from the Georgian Foreign Ministry.
Following the collapse of the Soviet Union in the early 1990s, Abkhazia and South Ossetia were internationally recognized as part of Georgia. But in 2008, Russia waged war over the regions, deploying thousands of troops and recognizing them as independent states.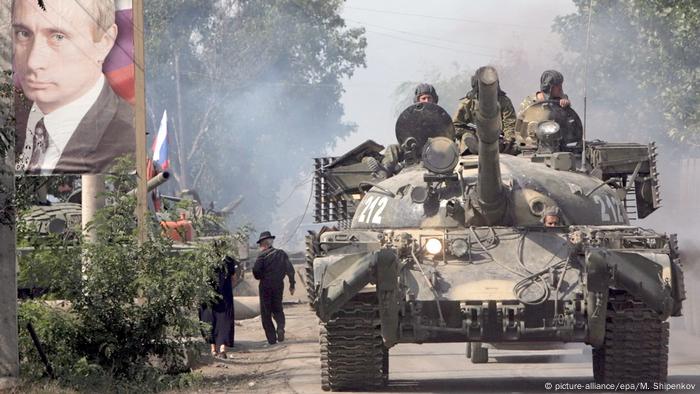 Russia sent in thousands of troops in 2008, many of which have remained in the regions
Politics of recognition
After the brief war, Nicaragua, Venezuela and Nauru recognized both regions as independent of Georgia. Although Syria has maintained close ties with Russia for decades, Moscow's involvement in the country's conflict in recent years has strengthened their bond.
Read more: Georgia's internally displaced face uncertain future
Abkhazia and South Ossetia have historically been autonomous regions of Georgia, even during the Soviet Union. In the wake of the Cold War, separatists fought a war against Georgian forces, a conflict that displaced 250,000 people and killed more than 12,000 others.
Both the US and EU have refused to recognize the breakaway regions, saying they form part of Georgia's territorial integrity.
ls/cmk (AFP, Reuters)
Each evening at 1830 UTC, DW's editors send out a selection of the day's hard news and quality feature journalism. You can sign up to receive it directly here.