Russian President Vladimir Putin unveiled a 19-kilometer (12-mile) bridge connecting southern Russia to the Crimean peninsula on Tuesday.
Putin, dressed in blue jeans, drove an orange heavy KAMAZ truck on the auto section of the road-and-rail bridge as part of the ceremony.
The controversial Crimean Bridge links the southern Krasnodar region with the Crimean city of Kerch and spans across a stretch of water between the Black Sea and the Azov Sea.
Read more: Opinion: Kyiv risks divided Ukraine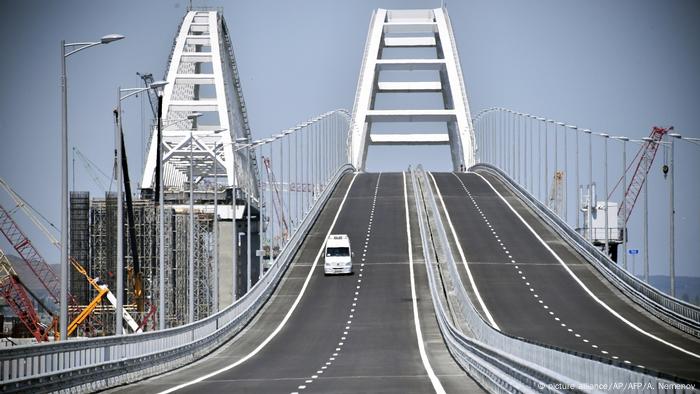 Ukraine says the project has damaged the environment and that it will prohibit larger ships from accessing its ports
The project cost 228 billion rubles ($3.69 billion, €3.1 billion) and is the longest bridge in Europe, taking over the Vasco da Gama Bridge in Lisbon, Portugal.
It was expected to be fully constructed by the end of 2018, but was completed six months ahead of schedule and will be open to traffic on Wednesday, according to a Kremlin statement.
Ukraine condemns bridge
Ukraine has criticized the project, saying construction has damaged the environment and that larger ships will be unable to get through to its ports on the Azov Sea.
Crimea was annexed from Ukraine following the 2014 Ukrainian revolution and takeover of the area by pro-Russian separatists and armed forces.
Read more: Crimea - a year in Russian hands
The results of a referendum deemed unconstitutional by the Ukrainian Constitutional Court on reunification with Russia found most people were in favor of joining Russia.
The annexation of the peninsula in 2014 was condemned by Kiev and the West as an illegal land grab.
EU and US sanctions target construction firm
European Union and US sanctions have targeted those involved in the realization of the bridge, particularly businessman Arkady Rotenberg, a close ally of Putin, whose company Stroygazmontazh won the construction contract.
The peninsula has until now been difficult to access from southern Russia with long queues of vehicles often trying to board ferries, which are not always able to run during winter storms. The easiest mode of transportation is flying.
The blocks imposed by Kiev and Western sanctions have meant a large amount of food is transported from Russia to Crimea by ship, meaning the bridge will play an important role in reducing the region's reliance on sea transport.
dv/aw (AFP, dpa, Reuters)