"Sanctions? Our nuclear missiles are laughing themselves silly." That was a common slogan on Russian T-shirts in 2014, as economic pressure mounted following Russia's annexation of the Crimean Peninsula. Initially, sanctions were applied cautiously by the United States and its allies and were very limited in scope.
Russia adjusted to the "new economic reality," a euphemism for the confrontation. In 2017, the economy began to grow once again. It is questionable whether the same will happen after the latest round of sanctions.
New punitive measures introduced by the United States on April 6 have led to a massive crash in Russia's stock and currency markets. Media report that new US sanctions on seven oligarchs, 17 top officials and 12 companies led to tens of billions of dollars in losses on Russian markets within just a few hours on Monday.
Read more: Putin, Kremlin were unprepared for a US-EU assault
The slide continued on Tuesday, and there is no end in sight. Pressure exerted on bonds and Russia's currency, the ruble, has also increased as further sanctions are discussed in response to the poisoning of the former Russian-British double agent Sergei Skripal. A proposal currently making the rounds in the US Congress would expand sanctions to target Russian sovereign debt.
Should that happen, it would be "economic warfare," warned Alexander Shoshin, chairman of the Russian business association RSPP.
But targeted individuals and their companies are not the only ones suffering from the latest US sanctions: Other corporations and banks are feeling the heat as well. Stock losses, for instance, are hitting Sberbank, Russia's largest bank. Meanwhile, the government has claimed that the situation is under control and promised financial assistance.
Business empire struggles
The 50-year-old businessman Oleg Deripaska will need that assistance more than anybody. The United States has singled him out with some of the toughest sanctions because of his perceived proximity to the Kremlin. His business empire, Basic Element, was one of the main targets.
Basic Element is reported to have more than 150,000 employees worldwide. The company website claims that 15 percent of Russia's population is "directly or indirectly" linked to the firm. Among those connected to Basic Element are Rusal, the world's largest aluminum producer, and the conglomerate Russian Machines, which has a number of subsidiaries in the automobile, aircraft and railway technology sectors.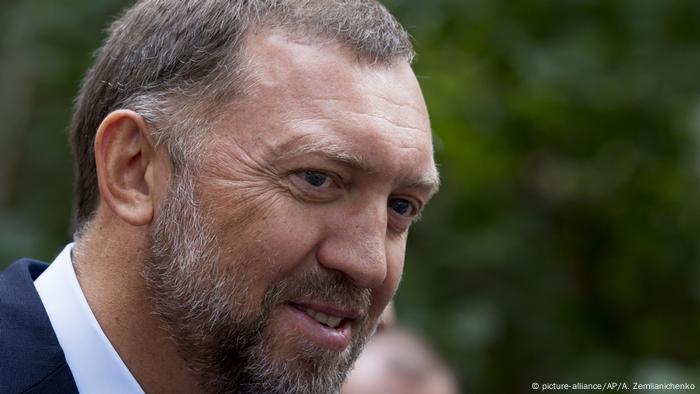 Deripaska was singled out by the US for some of the toughest sanctions
The automobile manufacturer GAZ from Nizhny Novgorod also belongs to Russian Machines. It is a traditional Russian company, and it was in front of GAZ's workers that Vladimir Putin announced he would run for a fourth presidential term in December. He was re-elected in March.
It remains unclear whether jobs will be directly threatened at Deripaska's companies as a result of US sanctions. Although the US is an important market for Russian aluminum, the lion's share of Basic Element's production is destined for the domestic market.
Read more: Vladimir Putin: How a spy rose to power and held on to it
The bigger problem would seem to be the company's foreign debt. Because of sanctions rules, that debt can only be serviced by the state. Observers say the Deripaska empire could eventually fall under state control as a result.
Many losers, some winners
Although most Russians have felt the effects of sanctions, they have so far not been so dramatic. The currency market suffered a similar crash in late 2014, yet the cause then was a global drop in the price of oil — Russia's most important export product and its largest source of foreign currency.
Domestically, many Russians will likely feel the first consequences of the devaluation of the ruble as a result of sanctions when purchasing electronic goods. The business magazine Vedmosti reports that prices for products such as smartphones and laptops are expected to rise 5-10 percent.
Read more: Western sanctions on Russia make lots of noise and little impact
And last year the number of Russians vacationing abroad declined because of the devaluation of the ruble. The inland tourism industry, however, has benefited somewhat from the current situation. For instance, Russians who forgo trips to Turkey because of increased expenses can vacation on the Crimean Peninsula instead.
Each evening at 1830 UTC, DW's editors send out a selection of the day's hard news and quality feature journalism. You can sign up to receive it directly here.