Shujaat Bukhari, who was shot dead in Srinagar on Thursday, had a long association with DW. After German reunification in 1990, DW began to diversify its reporting in South Asia. A militant movement in Kashmir had started gaining ground and was catching global attention. Bukhari was a freelance journalist in India at the time and had started covering Kashmir for DW's Hindi, Urdu and English programs.
In 1995, Kashmiri separatists kidnapped six European tourists, including Germany's Dirk Hasert. The Al Faran group demanded the release of Pakistani militant Masood Azhar, who was being held in an Indian jail at the time, in exchange for European tourists.
The Indian government did not accept the demands. The militants beheaded a Norwegian tourist; others are also believed to have been killed. Many years later, India released Azhar along with Ahmed Omar Saeed Shaikh, after an Indian plane was hijacked and taken to Afghanistan. Shaikh was later convicted in Pakistan for killing American journalist Daniel Pearl.
Bukhari extensively covered all of these crucial events for DW. But since becoming editor-in-chief for the Rising Kashmir newspaper almost a decade ago, he could no longer report for DW regularly. However, he remained close to DW journalists in South Asia and Germany.
As a journalist, Bukhari was committed to freedom of speech and performed his duty professionally until his last breath.
"Former DW correspondent Shujaat Bukhari embodied the journalistic virtue of critical detachment in Kashmir. He reported on the conflict with moderation and reason. His voice will be missed," Ines Pohl, DW's editor-in-chief, said in a statement on Friday.
"DW mourns the death of this fearless colleague who, despite threats and hostility, remained committed to freedom of expression and freedom of the press," she added.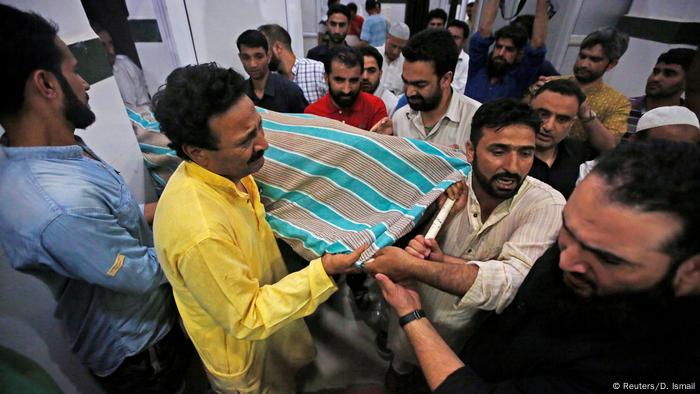 Indian and Pakistani journalists condemned Bukhari's murder
Kashmir in the spotlight
Just hours after the United Nations called for an international inquiry into alleged human rights abuses in Indian-administered Kashmir, gunmen shot Bukhari dead.
Read more: UN calls for Kashmir inquiry into alleged human rights abuses
Bukhari even tweeted about Thursday's UN report. "First ever such report on HR violations in #Kashmir," he wrote.
It is not clear why Bukhari was targeted, and who is behind his assassination. But analysts say his murder has once again brought the Kashmir conflict to global attention.
Violence has spiked in the Indian part of Kashmir since July 2016, when troops killed Burhan Wani, a young separatist leader. Local activists said Indian security forces killed up to 145 civilians and armed groups killed up to 20 between July 2016 and April 2018, according to the latest UN report.
Protracted conflict
Since 1989, Muslim insurgents have been fighting Indian forces in Kashmir – a region of 12 million people, about 70 percent of whom are Muslim. India and Pakistan have fought two of their three wars since independence in 1947 over Kashmir, which they both claim in full but rule in part.
"The secessionist movement in Jammu and Kashmir is fueled by Pakistan," said Varad Sharma, an Indian expert on Kashmir. "Pakistan uses terror as a strategic policy despite facing several terror attacks itself and losing thousands of its people. The jihadist infrastructure continues to operate from Pakistani soil. History tells us that the militants who operate in Kashmir are, mostly, either local Kashmiri Muslims or Pakistanis," Sharma added.
Pakistan claims that its support to Kashmiri separatist groups is only political, but New Delhi claims Islamabad is training the militants and providing arms to them. India and the international community are particularly perturbed by the activities of Islamist groups Lashkar-e-Taiba and Hizbul Mujahideen, whom India accuses of orchestrating terrorist attacks inside Kashmir.
Read more: What is Pakistan's militancy issue all about?
Contrary to the Indian government's claims, many Kashmiris support the cause of the separatists and came out in droves to protest against Indian rule and military operations in the state.
Kashmiri youth are at the forefront of the new wave of violence. Experts say that many of these teenagers, born after the start of the insurgency in 1989, don't feel any association with New Delhi. According to the latest census, nearly 60 percent of Kashmir's male residents are under the age of 30, and 70 percent are below the age of 35.
"The state simply does not have enough jobs to keep its youth occupied. Apart from unemployment, there is also a need to work out a political solution," R K Bhat, a political science lecturer from Srinagar, told DW.
Experts say the jihadi groups are using this alienation and resentment to their advantage, as the decades-old anti-India movement is increasingly moving toward Islamization.
'A formidable reporter'
The Editors Guild of India condemned Bukhari's murder as "dastardly attack."
"Mr Bukhari was a voice of moderation and a courageous, big-hearted editor who mentored a large cadre of young journalists from Kashmir," the Guild said in a statement. "The killing of Mr Bukhari is a new low in a rapidly deteriorating environment for media practitioners in Kashmir, in particular, and in the country in general."
"You left all too sudden but you will always be our leading light with your professional conviction and exemplary courage," said the Friday edition of Rising Kashmir.
Commenting on Bukhari's assassination, another Kashmir journalist, Iftikhar Gilani, told DW that Bukhari had paid the price for being a reporter in a conflict zone.
"He was feeling increasingly insecure before this death," Gilani said.
Kashmir remains one of the most dangerous places in the world for journalists and reporters. They have been targeted by both the military and armed militants.
Siddharth Varadarajan, editor of the online news portal Wire, told DW that Bukhari was "a formidable reporter" and "a voice of sanity and reason."
Read more:
Arundhati Roy: 'India is colonizing itself'
Kashmir violence: Has Modi's policy failed?
Threats to journalists
"Journalists working in Kashmir regularly face threats. Indian authorities must investigate Bukhari's murder and arrest the perpetrators," Robert Mahoney, deputy executive director of the Committee to Protect Journalists, said in a statement on Friday.
Even though Bukhari was given police protection since an attack on him in 2000, his life was never out of danger.
"When journalists challenge the state narrative about Kashmir, it rubs the authorities the wrong way," Bashir Manzar, editor of the Kashmir Images newspaper, told DW.
Journalists working in Kashmir also have to cope with pressure from the state government, intelligence agencies, paramilitary forces as well as separatists. This, analysts say, often leads to self-censorship among journalists.
"I have been reporting about Kashmir for a long time, but for the past few years, I have been feeling more insecure than ever," Kashmiri journalist Meraj Ud Din told DW.
Political analysts say that Bukhari's assassination calls for not only an investigation into his murder but also an overall probe into the rights violations by India, Pakistan and separatists in the restive valley.
Read more: How free is Pakistan-administered Kashmir?
Additional reporting by Murali Krishnan, DW's correspondent in New Delhi.