DW: How surprised were you that the European Platform for Democratic Elections (EPDE) was banned in Russia?
Stefanie Schiffer: Very surprised, we had not expected that. Our Russian partner organization, Golos, cooperates with the Central Election Commission, on the one hand, and on the other hand, it is severely hampered in regional areas. That is the reality in Russia. But we had not expected that it would affect the umbrella organization in this way.
What is the rationale behind the decision?
We don't know. It is certainly not a judicial decision in that sense. It is a decision made by the prosecutor general's office, which is discussed with the Ministry of Foreign Affairs and is carried out by the Ministry of Justice. And we haven't been directly informed. We have not received any letter or notification, nor do we know which specific Russian law we are alleged to have contravened. We have now sent a letter to the prosecutor general to find out, but we are still waiting for an answer.
Read more: What to expect from Putin's next term
EPDE is the 13th unwelcome organization in Russia to be banned. Previously, the US and other European countries were affected. But now, for the first time, a German NGO has been targeted. What will this mean for German-Russian relations?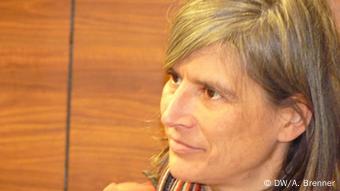 Stefanie Schiffer is the founder and head of the EPDE
They will get even worse. This situation is definitely not going to lead to an improvement. The case is before the federal government and will now be discussed at a political level. Yesterday, we also had talks at the Petersburg Dialogue. In any case, it has become clear there that this decision will not be accepted.
You referred to the Petersburg Dialogue, a forum launched in 2001 to promote dialogue between civil societies in Germany and Russia. Is the EPDE ban going to be the first item on the agenda at the next meeting in Moscow in early November?
I don't know if it will be the first item, but it will definitely be one of the topics that will be discussed.
How do you think Germany should position itself now?
Germany must discuss this issue with the Russian colleagues and demand a reversal of this decision. It is unacceptable that I, as a board member of the Petersburg Dialogue, should be banned from entering the Russian Federation. This is absolutely absurd and contradicts the idea of dialogue. That is why the German side, which is to say the government, the public and civil society, will work to ensure that the ban is rescinded. As a consequence, efforts must be made to strengthen dialogue between the countries, and difficult issues must also be discussed. And it is simply unacceptable that entry bans should be imposed or that cooperation should be banned.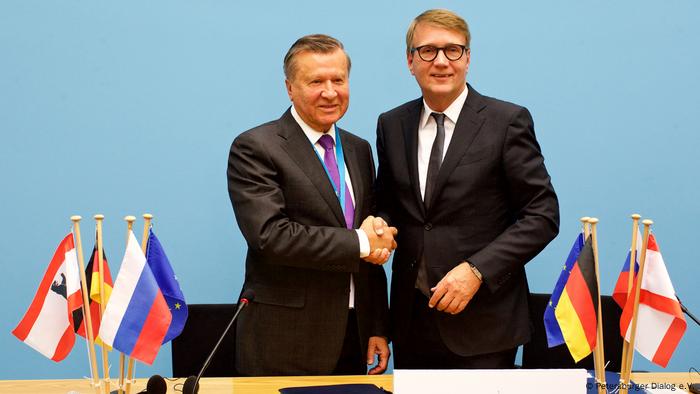 Viktor Zubkov (left) and Ronald Pofalla led the 2017 Petersburg Dialogue in Berlin
This ban has consequences not only for you, but above all for Russian citizens who work with the EPDE in Russia. What could happen to them?
According to our assessment, this is the central issue. The fact that the EPDE will not be able to hold events in Russia in the future is not so important. We didn't do this so much in the past anyway. What is central, however, is that Russian citizens who work with us are fined or, if they continue to work for us, are given prison sentences. This is draconian. We see this as an attempt to cut off Russian civil society from European networks. And that is not only an enormous loss for Russian civil society, but also, in certain ways, for European civil society.
Why?
Because Russian election observers are methodologically extremely well set up. They work according to internationally recognized methods of election observation. As well, they have developed innovative methods of detecting electoral fraud and, in this way, measuring the quality of elections. These resources and this knowledge are now no longer internationally available. That's a tremendous loss. In addition, Russian election observers will, of course, be prevented from exchanging experiences in the field of election observation at a European level. All in all, it is a very decisive curtailment and restriction of European civil society work.
If people keep trying to thwart the work of such NGOs, can we summarize by saying that the work of election observers is more important than ever?
Definitely. Because authoritarian states, outside but now also within Europe, can influence elections. That is why it's particularly important that there be a European exchange of methods. We can also see politically motivated election observation by authoritarian governments inside and outside Europe, such as when favorable reports are issued in the case of obviously falsified elections. Methodologically well-grounded, neutral and independent election observation is under immense pressure and, at the same time, extremely important.
How do you think this is going to end? Do you think the ban will be lifted?
I assume it will be withdrawn. I am optimistic. I believe that these laws, which restrict the work of Russian civil society, will not last.
Stefanie Schiffer is the founder and head of the German non-governmental organization European Platform for Democratic Elections, which has been linking and supporting election observers in autocratically governed countries for many years. Schiffer is also a board member of the Petersburg Dialogue.
The interview was conducted by Oliver Pieper.
Every evening at 1830 UTC, DW editors send out a selection of the day's hard news and quality feature journalism. You can sign up to receive it directly here.