Monday's ceremony was similar to the other three that have taken place in the last two decades: in a Kremlin hall adorned with gold, a door opened and Vladimir Putin strode across the carpet. The event was the fourth inauguration for the now 65-year-old president since 2000. And he seems to have reached the peak of his power: the March 18 election saw Putin achieve his best-ever result, 77 percent of the vote.
"This signifies not only an endorsement for Vladimir Putin as a Russian official and president, but he'll also perceive it as support for his policies," said Gernot Erler, a former German government representative in charge of relations with Russia. Putin's new term in office, the SPD politician believes, will be characterized by one feature in particular: "Continuity."
Read more: Opinion — Vladimir Putin's great deceit
Increasingly authoritarian domestic policy
It is plain to see during the last couple of years what Putin's authoritarian rule has meant for domestic politics: restrictions on freedom of assembly, intimidation of civil society, more control in the areas of internet and social networks and even blocking attempts, as in the case of messenger service Telegram.
"I'm afraid the destruction of democratic wiggle room will continue," said Martin Schulze Wessel, professor of Eastern European History at the Munich-based Ludwig Maximilian University. In addition, the fight against corruption would not be successful, he added.
"The system will become increasingly authoritarian, without reaching the threshold to open dictatorship," said Manfred Hildermeier, a retired colleague from Göttingen University. "For Putin, that's not necessary. He wants to show the world a democratic smokescreen."
Read more: Russia's position in Skripal case is 'increasingly bizarre'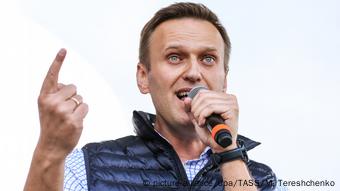 Opposition leader Alexei Navalny was barred from running in the election
Little danger from the opposition
An uprising against Putin — as in the former Soviet republics of Georgia and Ukraine or, currently, in Armenia — is unlikely to happen in today's Russia, all experts agreed. "In the elections, the opposition showed that it toiled with fielding one candidate," Erler said.
The presidential election saw two candidates, Grigory Yavlinsky and Ksenia Sobchak, who positioned themselves as representatives of the liberal opposition. Opposition leaderAlexei Navalny, who had been barred from running for president, called for an election boycott.
Predictions, however, were difficult, because people could be mobilized quickly via the internet, said Hildermeier. Whether there'll be protests in Russia would depend on the country's economic development.
Read more: Russia suffering under new US sanctions
Economy: No breakthrough
Thus far, Putin has been successful in stabilizing the Russian economy after the 2014 slump, triggered primarily by falling oil prices and, in part, by Western sanctions following the annexation of Crimea. This stability, however, is under threat from the recent, much stiffer US sanctions.
In the coming years, the economic situation in Russia will get more difficult, according to Stefan Meister of the German think tank Council on Foreign Relations (DGAP). "There will be less funding for pensions, for social welfare, even for the military," said Meister. Therefore, he added, domestic policy would play an increasingly important role during Putin's fourth term in office.
In his formulaic state of the nation address, delivered on March 1, Putin promised his country a technological breakthrough. The experts, however, are skeptical. "Putin won't achieve this," said Hildermeier. "His Achilles' heel is the economy, as well as economic competitiveness on an international level."
Russia continues to depend on commodity exports on a large scale. In addition, Russia has — from a historic perspective — "almost always managed to close the technological gap vis-a-vis Europe only in cooperation with the West." This, however, will not be on the cards. The estrangement between Russia and the West, initiated by Russia's "aggressive foreign policy," was likely to continue.
Maintaining distance to the West
"Russia has a lot of self-confidence and views itself as a peacekeeping power in any future multipolar world order," said ex-government representative Erler of Russia's foreign policy. The attempt "to establish Russia as a world power" will continue, agreed Meister. In the process, Moscow was benefiting "from US and EU inaction," for example in Syria, and — by virtue of tactical moves of its own — was developing into an important player in the Middle East, said Meister.
All the experts DW spoke to agree as to Russia's continuation of its policy of alienation from the West. The key to a rapprochement, they say, is a solution to the Ukraine crisis, but thus far Moscow has not shown its willingness to come to an agreement.
Russia's complete segregation from the West, however, would not work, said Schulze Wessel. Exchange of information was "too close," and there is the opportunity to travel to the West. The alternative, establishing closer ties to China, is "not so hot" as an option, because in that case Moscow would have to be satisfied with the role of being Beijing's junior partner.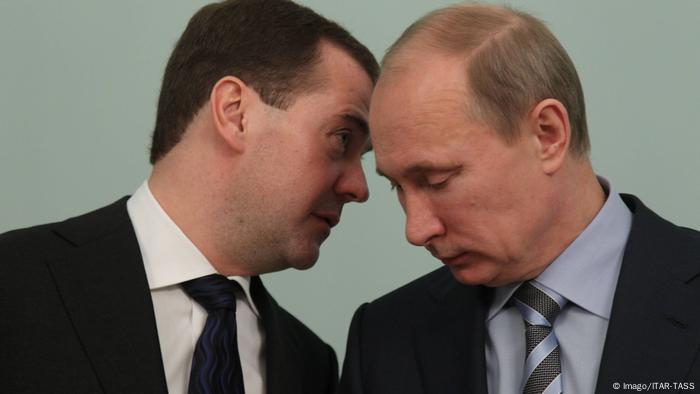 Putin with Medvedev: Will he step down or change the constitution?
Last term in office?
One of the most intriguing issues of Putin's fourth presidency will be whether it will be his last. The Russian constitution stipulates that a president may serve for two consecutive terms in office. Putin adhered to this guideline once before, becoming prime minister between 2008 and 2012 and returning to the Kremlin only after switching spots with then-President Dmitry Medvedev.
Now, Putin will face another choice: stepping down or changing the constitution. Hildermeier predicted that the former will happen. "My guess is there will be a change in leadership," he said. Following Putin's six-year term in office, "a loyal member of the ruling political elite" could run for president in 2024.
Putin himself has said — after his election win in March — that a constitutional reform was "not yet" on his agenda. In a previous statement he had implied that he didn't want to be "president forever." However, he will probably come under strong pressure to remain in power.
Every evening at 1830 UTC, DW editors send out a selection of the day's hard news and quality feature journalism. You can sign up to receive it directly here.