Russian president Vladimir Putin used the state of nation address on Thursday to announce that Russia has developed a missile that no other country has, as well as a new supersonic weapon that cannot be tracked by anti-missile systems.
Putin is hoping to secure a fourth term as president in Russia's upcoming election on March 18, which he is expected to win. State opinion surveys show about 70 percent of Russians favor his reelection.
Russia has tested new nuclear weapons, he said, including a nuclear-powered cruise missile and a nuclear-powered underwater drone that cannot be intercepted by enemies.
NATO buildup on Russia's borders and the US anti-missile system would be rendered useless by Russia's own military buildup, Putin said, adding that Russia did not intend to attack any other country and that the country's military buildup was designed to guarantee peace globally.
Read more: Russia election: Who are Vladimir Putin's challengers?
Political scientist Susanne Spahn told DW that Putin's speech on foreign policy was reminiscent of the Cold War when the US and Europe were singled out as Russia's greatest enemy. "Putin used a very threatening rhetoric towards the West, under to the motto: "In the past, you would not listen to us, then at least listen to us now," Spahn said.
"Putin said he wanted ... Russia to be recognized as an equal partner and world power," she added. "I think this is a way of putting pressure on the West, the US and Europe to see the Russian Federation as an equal partner."
Missiles are 'a violation of arms pact'
US State Department spokeswoman Heather Nauert said that Putin's new missile presentation "irresponsible" and accused Russia of violating nuclear arms treaties.
"Russia has been developing destabilizing weapons systems for more than a decade in direct violation of its treaty obligations," she said. Nauert added that the announcement violated the Intermediate-Range Nuclear Forces (INF) pact.
The State Department also condemned the use of an animation that depicted the new missiles striking the United States during Putin's speech. "That's something that we certainly didn't enjoy watching. We don't regard that as the behavior of a responsible international player," Nauert told reporters.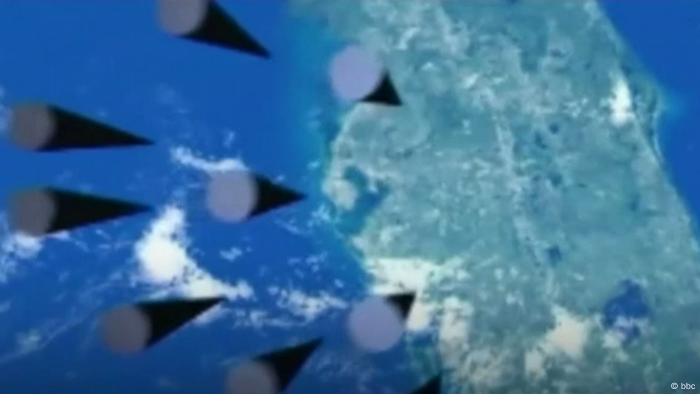 Screenshot from missile presentation with a map that appears to shows part of central Florida.
She added that Putin was "playing to the audience", ahead of the presidential election, when he played the videos showing the missiles.
The US Department of Defense played down the threat of Russia's "invincible missiles". Spokeswoman Dana White said that the Pentagon was "not surprised by (Putin's) statement, and the American people should rest assured that we are fully prepared."
Read more: Opinion: Putin is here to stay, as are tensions with the West
A focus on poverty
At the state of the nation address, Putin also emphasized that Russia needed to improve living standards and halve the country's poverty rate
"[We should] at least halve the poverty rate in the next six years," Putin said, adding that 20 million Russians currently live below the poverty line compared to 42 million in 2000.
Read more: Opinion: In Russia's election, words count more than action
Putin said that in 2017 the living conditions of 3.1 million families improved and that the aim was to do this annually for "no less than" 5 million families.
He said that in the next decade Russia should reach the circle of countries with 80-year-plus life expectancy. Russian life expectancy is currently at 73 years.
Read more: Opinion: Easy game for Vladimir Putin
Julius von Freytag-Loringhoven, head of the Friedrich Naumann Foundation's Moscow office, told DW that Putin must decide whether to invest in Russia's society or its military; there is not enough money for both.
"It was always clear that Putin would promise economic growth, higher wages, more money for education and so on," she said. "But if more money is needed for education and healthcare, it will not be possible for Russia to play Cold War at the same time."
Infrastructure
Putin said the country needed to "transform infrastructure" and increase the housing supply.
"We need to transform infrastructure, many regional cities and towns are changing…I suggest starting a large-scale program of development of cities and towns and double expenditures into this sphere in the next six years."
He said that Russia should spend more than 11 trillion rubles (€160 billion, $195 billion) on road infrastructure.
Each evening at 1830 UTC DW's editors send out a selection of the day's hard news and quality feature journalism. You can sign up to receive it directly here.
law/kms (AFP, AP, dpa, Reuters)