Russian Deputy Foreign Minister Mikhail Bogdanov set off a storm of speculation this week after saying that the opposition forces might win the Syrian civil war. The remark, which the United States said was a sign Russia was "waking up to the reality" of the situation in Syria, was played down by the Foreign Ministry.
"We have never changed our position and we will not change it," Foreign Ministry spokesman Alexander Lukashevich told journalists.
Since fighting began between Syrian government troops and opposition forces, Russia has been among President Bashar Assad's staunchest allies. As a permanent member in the United Nations Security Council, Moscow has been able to block resolutions aimed at the Assad regime. Although few are willing to admit it, hardly anyone in Russia believes Assad will remain in power.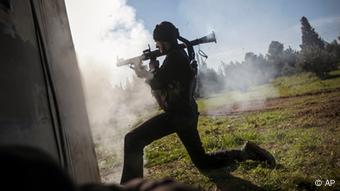 A Russian official said rebels might win the war - and was quickly chastised for it
"Russia is not defending the Assad regime but international law," said Alexi Borisov, deputy head of the United Nations Association in Russia, adding that Moscow was advocating the international principle of non-interference in other countries' domestic affairs and territorial integrity.
The scope of the Syrian civil war took Russia by surprise, according to Gerhard Mangott, a political scientist at the University of Innsbruck.
"Russia initially underestimated the conflict," he told DW. "When attempts at negotiations began with a view of keeping Assad in power, it was already too late to find a compromise between the opposition and Assad. But Russia still followed this policy because at the time it was clear that it with Assad it would win and without Assad it would lose."
Selling arms to Syria as a marketing ploy
Experts in the West have often pointed to Russian arms sales to Syria as the reason behind Moscow's support for Damascus. But that argument does not hold, Mangott said, because Syria is not able to pay for the weapons it is receiving from Russia. Though it does not make financial sense for Russia to provide weapons to Syrian government troops, Moscow can show other potential arms buyers - who can pay for their weapons - that Russian military technology is still effective.
Russia has no choice but to continue supporting Syria, one expert told DW
But Fyodor Lukyanov, editor-in-chief of the Russian journal "Russia in Global Affairs," wrote that Russia losing money could be the least of Russia's problems when it comes to its arms sales policy.
"Contracts for millions of dollars sound good," he wrote, "But it is only business and nothing more. Taking the chance of, for example, risking a new confrontation with the United States and Europe, whose cooperation is necessary in other areas, is just not worth it."
After Syria come Iran, Russia and China?
Other Russian experts, however, warned that the spread of Arab revolutions, which they say has been supported by the United States, poses a threat to other countries, including Russia. Oleg Ivannikov, director of the Russia-Caucasus Research Center, said any country could find itself in Syria's position. He wrote an article for Russia's Rex news agency titled "Egypt, Libya, Syria. Are Iran, Russia and China Next?"
These are the "nightmares" based on concepts of the enemy that Russian political scientists continue to hold on to, said Mangott.
"Russia is a caliber apart from Libya or Syria," he said. "Russia cannot be put under pressure. This so-called chain reaction that ends with China being threatened militarily by a foreign power - that there is a foreign military intervention in the northern Caucuses as a way to 'protect human rights' - not even the hawks take that seriously."
Russian evacuation plans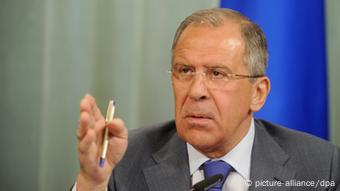 Lavrov said Russia was ready to evacuate Russian nationals if necessary
Borisov said he also finds the conspiracy theories too exaggerated.
"These so-called experts are going too far," he told DW. "They are only really interested in getting attention for themselves. The truth is that the United States and the Russian Federation have more common goals than differences."
Yet Russia has little choice but to play its cards to the end and continue supporting Syrian government forces - if for no other reason than to keep itself from being side-lined on the international stage, Lukyanov said. Moscow also appears to know how this hand will end: Russian Foreign Minister Sergey Lavrov announced that detailed plans for the evacuation of Russian diplomats and other nationals from Syria have been made should the government collapse.