United States army soldier Bradley Manning was convicted and sentenced to 35 years in prison in the US for violating the country's Espionage Act. Former NSA contractor, Edward Snowden, is convinced if he stands trial in his home country that he will not receive a fair hearing. The subtext is clear: whoever provides journalists with politically sensitive information and classified documents has to factor in a severe punishment should they be caught.
Media-rights watchdog, Reporters without Borders, draws this conclusion in its 2014 Press Freedom Index which was released on Wednesday (12.02.2014).
"In the US, state persecution of investigative journalists and their sources by security services has reached an unprecedented level," Christian Mihr, the Reporters without Borders executive director, told DW. "If sources can no longer be trusted, we face a significant curtailment of press freedom and a dramatic step backwards when it comes to democracy."
Western influence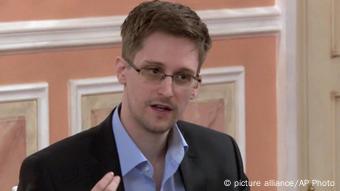 The US consider him a traitor, whistleblower Edward Snowden
This development sends a "grave signal to countries like Turkmenistan, Syria or Turkey," says Mihr. "When traditional democracies no longer consider press freedom of inestimable value, these countries no longer feel any pressure," warns RwB's executive director – using the example of British newspaper "The Guardian" and its connection to the revelations made by Edward Snowden. In the past year, editorial staff were forced to destroy hard drives containing information on the whistleblower. Relying on a clause in the country's anti-terror legislation, investigators interrogated the partner of investigative journalist, Glenn Greenwood at a London airport.
The index ranks Germany in 14th place, where domestic and foreign security agencies have tried on several occasions to intimidate journalists, the Paris-based media rights watchdog reported. Investigators have confiscated research material; the Lower Saxony domestic intelligence agency has been monitoring several journalists for years. At the same time, however, charges have been brought by journalists against threats made by Neo-Nazis, Salafists and ordinary criminals. "Germany distinguishes itself from other countries with its strong, but above all, independent judiciary," Christian Mihr emphasized.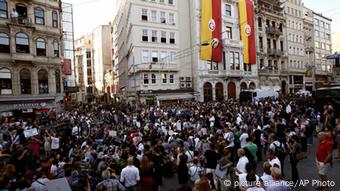 Demonstrations against arbitrary authority: Journalists in the Turkish city of Istanbul
The latest RwB Press Freedom Index compares the media landscape of 180 countries and regions between December 2012 and mid-October 2013. Despite "restrictions in the name of national security", the top-ranked countries are still from western and northern Europe. Finland, the Netherlands, Norway, Luxembourg and Andorra remain unchanged at the top of the list. Also unchanged, however, are those countries at the tail end of the rankings: Somalia, Syria, Eritrea, North Korea and Turkmenistan.
Problem countries: Turkey and Greece
The Gezi Park protests in Istanbul, which took place between May and September last year, saw 153 journalists injured and 39 reporters temporarily detained. After thousands of websites were blocked the previous year, the government decided to up the ante. New Internet legislation approved by parliament now allows the telecommunications authority to block websites without a court order. President Abdullah Gül has yet to sign the bill into law. The amendment provoked criticism both at home and abroad. Protests came to a head in Istanbul last week with police using tear gas to disperse demonstrators. Sixty journalists remain detained in Turkey, "for abusing anti-terror laws," Christian Mihr says. "Mere reporting on the Kurdish conflict makes [a person] a terror suspect," he added.
Of the 28 European Union member states, Bulgaria comes in last place on the list. "The situation is tense there, especially for independent journalists, and above all, investigative journalists – their cars are being set on fire," the report states. Hungary, the Balkans and Greece are also problematic European regions. Greece has slipped 50 places since 2009, due in part to the closure of the state broadcaster, ERT, which maintained four television and five radio stations.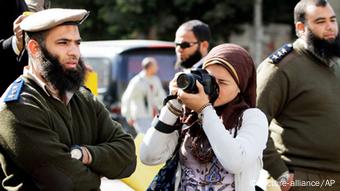 Arab Spring countries remain at the bottom end of the list
Furthermore, attacks on journalists are increasing. "There are ever increasing threats from extreme right-wing factions against journalists who cover topics such as racism and other socially relevent issues," says Mihr.
Middle-East powder keg
In Arab Spring countries, Reporters without Borders reported no significant progress in press freedom. "Because of the rapid momentum of developments that spread across the region, one might have had unrealistic expectations," Christian Mihr points out. "Such abrupt regime changes have in the past only rarely brought about any steady progress." Egypt remains in spot 159, Tunisia 133, and Syria 177. Mihr views this as "general contempt for independent media within these four countries." In the case of Syria, "there is no other country in the world that is more dangerous for journalists to live and work," he said.