"Der Spiegel" on Tuesday said defense ministry states secretary Gerd Hoofe had budgeted 58 million euros ($63 million) for a new runway and a portable command center at the key airbase in southeastern Turkey, near Syria's northern border.
Particularly center-left Social Democrats (SPD) in Germany's federal parliament, which has an ultimate say over German Bundeswehr deployments, had until a week ago demanded that the German mission should be ended because of Turkish strictures.
Since June, President Recep Tayyip Erdogan's government has banned visits by German parliamentarians to Incirlik in reaction to a Bundestag resolution in May that declared 1915 massacres of Armenians by Ottoman Turkish forces to have been a "genocide."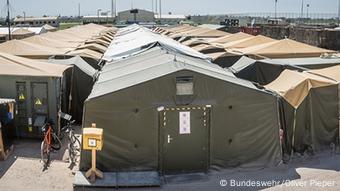 'Patriot Village' houses German and other crews
On Sunday at the G20 summit in China, Chancellor Angela Merkel had bilateral talks with Erdogan and later intimated that the travel ban could soon be lifted.
This followed diplomacy that culminated last Friday in a German government spokesman suggesting that the Bundestag Armenian resolution of May was not legally binding.
Borrowing from Americans
"Der Spiegel" said the German Bundeswehr wanted the investment urgently because the mission, which began early this year, with its some 240 personnel, has had to park its Tornado surveillance jets at US sites at Incirlik, sleep in provisional quarters - called the "Patriot Village" located near noisy runways - and depend on allies for technical support.
Of 58 million euros, 26 million would fund the laying of a new airfield for the Tornados and appropriate Bundeswehr accommodation for soldiers. A further 30 million euros, awaiting budgetary clearance, would be spent to erect a command center. For this, foundations would be necessary, costing a further two million, "Der Spiegel" reported.
A defense ministry spokesman added that the transportable command center, comprising sophisticated equipment fitted inside large containers, was a useful purchase anyway, independent of Incirlik.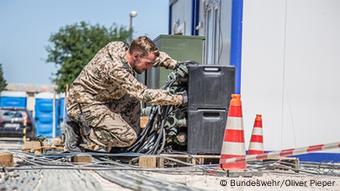 Diesel-fueled generators keep the site running
Currently, stationed at Incirlik are six Bundeswehr Tornados and an Airbus A310 MRTT used to refuel the jets, mid-air. Bundeswehr ground crews make repairs in daytime temperatures well over 30 degrees Centigrade (86 degrees Fahrenheit)
The international campaign against the jihadist "Islamic State" (IS) militia holding parts of Syria and Irak involves 66 nations, including a French aircraft carrier operating in the Mediterranean.
Twin messages
Ten days ago, SPD Bundestag parliamentary group leader Thomas Oppermann had warned Erdogan's Turkey: "If by October no German parliamentarian is allowed to travel to Incirlik, then I recommend not to extend the [Bundestag] mandate, but instead to let it run out."
The mandate, passed by parliament late last year, runs until December 2016.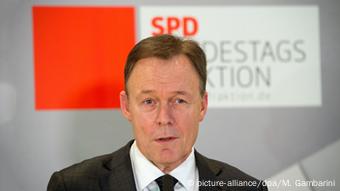 SDP's Oppermann had called for a pullout
On Monday, Martin Schäfer, a spokesman for the German Foreign Ministry headed by Social Democrat Frank-Walter Steinmeier said: "We are optimistic and hope and expect that all the desired visits by German lawmakers to Incirlik or other sites will be approved."
Both Germany and the 28-nation European Union as a whole are dependent on Turkey to restrict movements of refugees from war zones into the bloc.
For months, a EU-Turkey deal on migrants reached in March has hung in the balance, also due to EU outrage over Turkey's handling of a failed coup in July.
Peace groups demand pullout
Last week, peace organizations demanded that the Bundestag parliament quickly end its military operations at Incirlik, saying US-led military interventions in Afghanistan and Iraq had shown that peace could not be acheived via bombing.
"The military is part of the problem and not a solution to the problem," said Susanne Grabenhorst, chairperson of the International Physicians for the Prevention of Nuclear War.
Instead, the groups demanded civil alternatives such as new Middle East versions of the Organization for Security and Cooperation in Europe (OSCE) and Europe's post-war "Marshall Plan" reconstruction scheme.
ipj/jil (Reuters, dpa, AFP, epd)