After speaking to EU foreign ministers, Turkish EU Affairs Minister Omer Celik said, "As a result of the meeting, there is very strong consensus about focusing on a positive agenda and further enhancing cooperation between Turkey and the EU."
EU foreign police chief Federica Mogherini said Turkey had agreed to continue to implement the migrant deal and that both sides were working on liberalizing visa rules.
German Foreign Minister Frank-Walter Steinmeier also confirmed on Saturday that Turkey's foreign minister would travel to Strasbourg next week to see if the European Council could monitor post-coup prosecutions.
He said Germany stood by Turkey after the failed coup, but that Ankara would have to accommodate dissent, Reuters news agency reported on Saturday. Thousands have been taken into custody in Turkey following the failed July 15 coup attempt.
"Direct dialog is important and that's what we are re-establishing this morning," said Slovakia's Foreign Minister Miroslav Lajcak. The 28 ministers of the bloc had a "common understanding" of expectations from Turkey and they expected to get some answers for their concerns and questions, he added.
Lajcak, whose country currently holds the rotating EU presidency, said an initial meeting with Celik on Friday had been "very friendly" and that the two partners would not shy away from difficult topics.
Lithuania's Foreign Minister Linas Linkevicius said Turkey was "very important for the solution of current challenges facing Europe and the world."
"There are many, many reasons we have to talk," he added.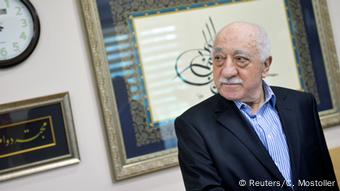 Fethullah Gulen is a cleric based in US and the alleged leader of a spiritual movement, which spans academics, businessmen and students in Turkey
Relations between the European Union and Turkey suffered a setback earlier this year after the bloc was unwilling to allow visa-free travel for Turkish citizens coming into the Schengen area as part of a complicated immigration deal. EU leaders called on changes to Turkish anti-terror laws before opening up the visa-free travel zone. Ankara has said it would stop holding back people looking to travel through Turkey to Europe.
The situation worsened with an attempt to overthrow Turkish President Recep Tayyip Erdogan on July 15, blamed on followers of the Gulen movement. Tens of thousands of alleged anti-Erdogan people were arrested, including journalists, judges, academics and security personal allegedly supporting the movement's expat spiritual leader Fethullah Gulen were arrested.
EU countries condemned the coup, but also voiced strong concern against the crackdown on dissenters.
"When you have seen the number of arrests, the developments in the country, we are worried," Belgian Foreign Minister Didier Raynders said.
Any debate about introducing the death penalty in Turkey would spell "the end" of its hopes of joining the EU, Raynders added.
mg/sms (dpa, AP)