The German criminal police (BKA) is receiving between 25 and 30 reports about war crimes per day from refugees arriving in the country, a regional broadcaster reported on Monday.
The BKA's specialist war crimes division, based in the small town of Meckenheim, near Bonn, told the "Hessische Rundfunk" that they "weren't prepared for this mass traffic," and that additional officers had had to be called in to deal with all the reports from refugees.
Some 2,800 testimonies have already been registered in Germany, with most of the evidence coming via the routine interviews that all asylum seekers give to the Federal Office for Migration and Refugees (BAMF) when applying for asylum in Germany.
But the BKA also admitted that only a fragment of the reports came with hard evidence - corroborated by photos or other witnesses - and that many reports amounted to no more than rumors. Nevertheless, the BKA confirmed to DW that it has launched 13 investigations based on testimony from refugees.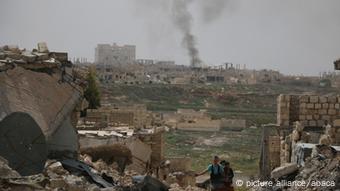 A Syrian national thought to have commanded a militia in Aleppo has been arrested by German police
War crimes division
The BAMF's standard questionnaire for all asylum seekers from Syria includes questions on whether the refugee fought in the Syrian army or used to be a member of the country's security forces, whether they have witnessed any potential war crimes, including the use of chemical weapons, and whether they possess any documentary evidence to back this up.
Answering these questions is optional; the BAMF automatically passes on any answers to the German police.
Some of these police investigations are already producing results. Last Wednesday, the Syrian national Ibrahim Al F. was arrested in the Westphalia region on suspicion of committing war crimes. The 41-year-old is believed to have been the leader of a 150-strong militia in Aleppo that fought as part of the Free Syrian Army from at least 2012 onwards and looted neighboring districts of the city.
He is accused of having supervised the torture of several prisoners - personally torturing at least two of them - and demanding ransom for their release.
Authorities across Europe have also been hunting down potential war criminals among the hundreds of thousands of refugees arriving in Europe from the ongoing conflicts in Syria and Iraq and other parts of the world.
At the end of February, the Dutch Justice Ministry said it had identified 30 suspects - including 10 Syrians - among the refugees, though many of the suspects were from other countries, including Eritrea, Nigeria, Sudan and Georgia.
The AFP news agency reported that a similar Dutch investigation in 2014 had identified 50 war crimes suspects.
Rumors on social media
Hundreds of rumors and gruesome images from the Syrian war have been circulating on social media - and by extension in refugee homes - since the conflict began five years ago. But many human rights activists are attempting to gather concrete evidence.
Abdul Karim Rihawi, currently head of an organization called the Syrian Human Rights League, gained asylum in Germany after being tortured in the custody of the regime of President Bashar al-Assad, and initially fleeing to Egypt.
Rihawi, who has lived in Frankfurt for over a year, even handed the BKA a list of 150 potential war criminals. According to a report by German public broadcaster ARD, a suspected member of "Islamic State" was arrested in December 2015 as a result of Rehawi's information. But the suspect was released following an interrogation.
"The Germans have welcomed many Syrians, and must be protected from allowing these people to commit crimes again," he told ARD.