In December last year, a German regional court convicted two "Islamic State" returnees from Wolfsburg of membership in a terrorist organization. Ayoub B. and Ebrahim H. B., both of Tunisian-German descent, had traveled to Syria in 2014, only to return three months later - disillusioned by their experience. Ayoub B., 27, was sentenced to four years and three months, while Ebrahim H. B. was sentenced to three years.
Then in early March, a Düsseldorf court sentenced German Muslim convert Nils D. to four years in prison for spending several months in Syria as a member of the "Islamic State" in 2014.
He distanced himself from the militia during his trial and testified about his experiences in court, which led presiding judge Barbara Havliza to tell him, "The punishment would have been much higher without the confession."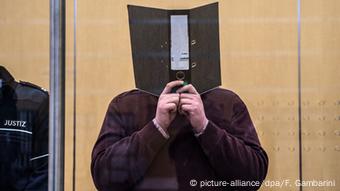 Nils D. was sentenced to four years in prison
'Blood on their hands'
As if to make his point, Germany's top federal prosecutor Peter Frank said on Tuesday that convicting former IS members of any crimes beyond being IS members was difficult. "We assume that some of these perpetrators have blood on their hands, but often we can't prove it," he told the "Süddeutsche Zeitung." "Our problem is: What proof can we get from a war zone where all state structures have collapsed? Cooperation in terms of legal help doesn't work either in Syria or Iraq."
"If we are able to determine they are returnees from the ranks of the 'Islamic State' or other groups, then mostly we can only prove their membership in a terrorist organization," he added. "But we often get the impression that these people weren't just put on guard duty or received weapons training in Syria, but were involved in bodily harm, killings and bombing attacks."
Federal prosecutors are currently running around 130 investigations on nearly 200 suspected members and supporters of foreign terror groups, according to Frank, though in many cases their only hope of securing convictions was reliable witness testimony - particularly from refugees.
"We have a little more hope of solving war crimes that IS perpetrated on Yazidi territory in the Kurdish autonomous region in northern Iraq - over 1,000 Yazidis have come to Germany, some of whom we have questioned," he said. "So we have direct accounts of what happened there. On this point we are doing a 'structural investigation' to determine what crimes against international law have been committed."
Other countries, similar pattern
German federal police reported in February that over 800 Islamists, most aged between 22 and 25, had left Germany to fight alongside IS and the Al-Nusra Front in Syria and Iraq in recent years. But other European prosecutors face a similar problem. Like Germany, the UK's sentencing for membership of terrorist groups is under ten years - in February, the British woman Tareena Shakil was jailed for four years for her IS membership and another two for inciting acts of terror via social media. She, too, renounced the terrorist group during her trial.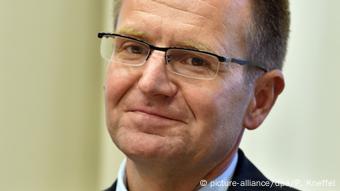 Peter Frank says it's tough to get murder convictions for IS members
Raffaello Pantucci, director of international security studies at the UK's Royal United Services Institute (RUSI), thinks it's important that each returnee is tried and sentenced individually. "There are different kinds of foreign fighters, and different kinds of motivations why people go," he told DW. "There are people who genuinely go and have a bad experience and want to have a normal life, or could be useful as countermessaging tools. And there are people that went out there who aren't terrorist-motivated."
But on the other hand, Pantucci does think that countries have a responsibility to punish citizens who go to fight abroad. "In reality, foreign fighters tend to make conflicts worse," he said. "But sentencing has to be calibrated according to a case-by-case basis."
According to the Soufan Group, a US-based security consultancy, Germany was the second-biggest supplier of foreign fighters to Syria after France (though Belgium sends the most per capita) in 2015. Of the 700 or 800 that went, around 200 to 300 are believed to have returned - for whatever reason.
German state prosecutor Frank also repeated warnings from police unions and politicians that Germany was likely to be in the sights of terrorists, but he said the fact that no major attacks had happened on German soil so far was "the result of successful cooperation between the prosecution and security services."
He underlined that no evidence had yet been uncovered that showed the attackers of Paris and Brussels had any "operative connections" in Germany - despite a media report that Saleh Abdeslam, the recently arrested prime surviving suspect for the Paris attacks, had driven a hired car to the southern city of Ulm six weeks before the attacks took place in November last year.