The lawyer for Paris attacks suspect Salah Abdeslam said Thursday his client wants to be extradited to France "as soon as possible" to face charges.
"Salah Abdeslam has asked me to inform you that he wishes to leave for France as quickly as possible," defense attorney Sven Mary in Brussels told France's private BFM TV.
The attorney said he hoped this could happen "as soon as possible" adding that Abdeslam "wants to explain himself in France."
Defense asks for more time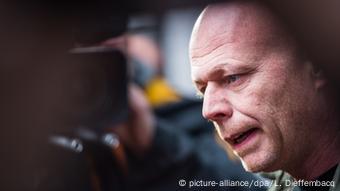 Defense lawyer Sven Mary told reporters in Brusselsthat he's asked for a one-month delay on any transfer while he studies the dossier.
Paris prosecutor Francois Molins said last week that a legal challenge to Abdeslam's extradition from Belgium could delay proceedings up to three months. Abdeslam was captured unarmed in a police raid last week and suffered a gunshot wound to the leg after being shot by police.
Investigators in Belgium have also tied the Bakraoui brothers - two of the suspected suicide bombers in Brussels - to Abdeslam.
Police believe the 26-year-old Belgian national of Moroccan origin is a key figure in both the Paris and Brussels attacks that - combined - claimed more than 160 lives.
But Mary says his client professes his innocence over the suicide attacks in Brussels that killed at least 31 people and injured hundreds more.
jar/jil (AFP, Reuters)