The road tails off into a dirt track, heading into the woods. A wooden bridge suddenly appears out of nowhere, straddling a small brook. This is the entrance to the refugee camp at Velika Kladusa.
Since early summer this year, Afghan, Pakistani and Middle Eastern migrants have streamed into the municipality near Bosnia-Herzegovina's border with Croatia.
The directest route to Slovenia
Every day, migrants from the camp attempt to cross into Croatia and on towards western EU states. Velika Kladusa is just 70 kilometers from Slovenia, the closest point in the border and visa-free Schengen Area.
The refugee camp is a surreal place seemingly covered entirely by dark gray tarp, intended to shield the inhabitants from rain. There is plenty of precipitation in this hilly, northwestern region of Bosnia-Herzegovina.
Azra Moralic and her colleagues from the Emmaus charity tend to the refugees at least once a day. Together with the Bosnian branch of Doctors Without Borders, Emmaus delivers food to the camp residents and provides medical assistance. "It will be unbearable for them if they have to stay here during winter," warns one of the volunteers. "Their tents aren't made for such temperatures."
Read more: Closed borders boost people smuggling across Balkans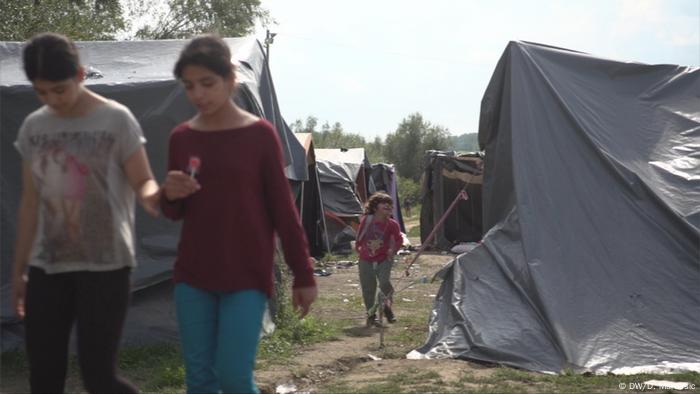 Many refugees have attempted to cross into the EU from Velika Kladusa
Makeshift camp unsuitable for harsh winter
Winters in this part of southeastern Europe can be harsh. Croatia's nearby Plitvice Lakes National Park tends to be covered in many meters of snow during that time of year. So having to stay in Velika Kladusa refugee camp during winter is a chilling prospect.
As she walks past one of the open showers and rows of portable toilets, Azra Moralic says some 150 individuals are currently camped out there, among them ten families with children. She stresses that they need to be relocated to proper housing adequate for winter.
Earlier this month, the International Organization for Migration (IOM) was able to relocate all families based in the much-larger refugee camp in the regional capital of Bihac. The UN organization rented a socialist-era hotel which had previously gone bankrupt to house the families there during the cold season.
Some residents have lost hope they will make it into the EU any time this year. And Azra Moralic reports that others feel like they're locked up in a prison. Moralic thinks the camp, despite the increasingly dire situation, is a better option because refugees "can come and go as they please."
The new Balkan route
Some refugees have been traveling for up to four years. Many tried numerous times to get from Serbia to the EU states of Romania or Hungary. But in spring this year, European authorities began noticing a westward shift: a new migration route began developing when smugglers in Turkey and Greece identified Bosnia-Herzegovina as a promising location for reaching the EU.
Initially, as a German security official explained in April, authorities had become aware of a 'Mosque route' which began when smugglers started sending helpless refugees to Bosnian mosques. Local imams provided Muslim migrants with food.
Soon, a new 'Western Balkan route' emerged, running from northern Albania, to Montenegro and then across the mountains to Bosnia-Herzegovina. One Afghan refugee reported traveling from the Serbian capital Belgrade across the Drina river to eastern Bosnia and Herzegovina. An EU representative in Bosnia's capital Sarajevo told DW that "authorities say that 3,500 to 4,000 migrants entered the country in June and July this year."
Read more: Germans upbeat about immigration, study finds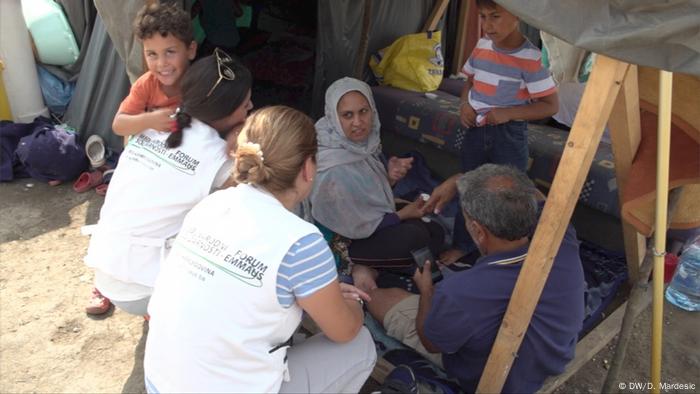 Emmaus aid workers offer help to refugee families in Velika Kladusa
EU funding relief efforts
Gradually, non-governmental organizations have begun supplying the refugees with the bare essentials. At first, the EU's Directorate-General for European Civil Protection and Humanitarian Aid Operations (ECHO) received €1.2 million ($1.4 million) to finance relief efforts.
Then the EU increased its funding. Since June this year, €7.2 million will go to the UN Refugee Agency (UNHCR), the UN Children's Fund (UNICEF) and IOM to take care of refugees stuck in Bosnia. The UN agencies have tasked further non-governmental organizations like Emmaus and Doctors Without Borders to provide humanitarian assistance.
The EU is tapping into a relief network that sprung up in Bosnia-Herzegovina during the war in the 1990s and that is still active today, stepping in to provide help when state agencies fail to do so. Although the war ended 23 years ago, Bosnia-Herzegovina remains divided along political and ethnic lines. The country's politicians are not cooperating.
In a recent report, Germany's Institute for International and Security Affairs (SWP) writes that "tensions between nationalist Serb, Muslim and Croat representatives have intensified lately."
Creating permanent refugee shelters outside the EU
As the Bosnian state is unable to deliver effective relief measures for refugees, non-governmental organizations are filling the void. But these efforts are financed through EU subsidies that are supposed to help prepare Bosnia to join the EU. The country formally applied for EU membership in 2016.
Yet now, Bosnia finds itself doing the EU's dirty work, so to speak, by housing refugees in emergency shelters. For months, EU member states have been discussing the idea of creating refugee reception centers outside of the EU, for instance in Albania. Here, the thinking goes, asylum applications could be processed without refugees actually entering the EU.
Now, it looks like sturdy refugee shelters for winter time are only a matter of time in Bosnia. As Azra Moralic stresses, staying in tents is no option as winter approaches.
Every evening at 1830 UTC, DW's editors send out a selection of the day's hard news and quality feature journalism. You can sign up to receive it directly here.